Naqsh-e Rustam
---
Many dynasties and empires had come and gone in the land of Persia, but none of those could keep up with the Achaemenid Empire, an inception to a new era and the mother of future Persian empires. This people-friendly and righteous empire, with rules and regulations ahead of its time, was never meant to be repeated, but were to be idolized and learnt from.
"Cyrus Charter", the first written manifestation of human rights, has been a golden standard, in many governments and kingdoms, notwithstanding their nationality.
So, basically and literally Persia and its Achaemenid dynasty, has set the legislation foundations of many future countries, governments and societies.
So they had every right to take pride in themselves, to flaunt their way of life by leaving their footprints for the future generations to witness the depth and intelligence of their thoughts and strategies.
Since they had done their parts by serving us with their precious heritages, it has been up to us to decide, wether we are in for a better future or we choose to live by the rule of "trial and error".
now we are honoured to dedicate this article, to one of the manifestations of Achaemenid Empire, the Naqsh-e Rustam.
We are absolutely sure that you will be visiting them on your next trip to Iran, therefore we encourage you to read on.
Introduction of Naqsh-e Rostam
Naqsh-e Rustam, is an ancient necropolis, located in the village of Zangi Abad, to the north of the city of Marvdasht in Fars province. This ancient site which is in a 6 km distance from Persepolis (Persian: Takht-e Jamshid), has been a home to ancient Iranian rock reliefs from Elamite, Achaemenid, and Sassanid periods. It lies a few hundred meters from Naqsh-e Rajab, with four further rock reliefs, three of them celebrating kings and one a high priest.
Naqsh-e Rostam which had been of high significance since 1200 BC until early 7th century, is the necropolis of the Achaemenid dynasty (circa 550-330 BC), with four large tombs cut high into the cliff's face and it is believed to be those of Darius II, Artaxerxes I, Darius I and Xerxes I. The "Cube of Zoroaster", an Achaemenid architectural masterpiece, stands in front of the highest tomb, which belongs to Darius the great.
Below the Achaemenid tombs and near the ground level, are 7 large rock reliefs of Sassanid kings, depicting them meeting with Gods, and their imperial conquests.
Oldest rock relief on these cliffs, belongs to the Elamite era, picturing a God and a Goddess.
History of Naqsh-e Rostam
During the old times, Naqsh-e Rostam was also known as "Se-Gonbadan" or "Do-Gonbadan". Local people also called it "Haji Abad" cliff, "Istakhr" cliff or "Nefesht" cliff until they could relate the Sassanid rock reliefs, showing elaborate equestrian fights of a type that was still common in the middles ages, with Rustam a mythical Persian hero in Firdausi's (940- 1021 BC) famous "Shahnameh" (The book of Kings), and called it "Naqsh-e Rustam" (The image of Rustam).
As quoted from Ctesias of Cindus, a Greek historian:
"Bodies of Persian Kings are brought to Do-Gonbadan. King Cyrus wanted his tomb to be carved into this cliff. Therefore, it was done as he wished."
Naqsh-e Rustam was already a place of importance when king Darius the Great, decided to be buried there. He ordered his monumental tomb to be carved into a cliff, which is also known as Huseyn Kuh, and was quite visible from the then Persian capital, Persepolis, founded by Darius I.
The only tomb identified with certainty, is that of Darius I (Darius the great), and that's because of the two long inscriptions. One says:
"I am Darius the great king, king of kings, king of countries containing all kinds of men, king in this great earth far and wide, son of Hystaspes, an Achaemenid, a Persian, son of a Persian, an Aryan, having Aryan lineage." He then calls for divine protection: Darius the King says: "This which has been done, all that by the will of Ahuramazda I did. Ahuramazda bore me aid, until I did the work. May Ahuramazda protect me from harm, and my royal house, and this land: this I pray of Ahuramazda, this may Ahuramazda give to me!"
The 2nd inscription indicates that, Darius the great wanted to rule according to justice:
"It's not my desire that a man should do harm, nor it is my desire that he goes unpunished when he does harm."
At the time of Darius I, Ahuramazda was considered as a divine creator and was symbolized by, "Farahvar", a guardian angel holding a solar disc.
Later similar royal rock tombs were added. It can not be surely said, whom these tombs belong to, but most obviously they belonged to three of his successors, most likely his sons, Xerxes I, Artaxerxes I and Darius II, who also chose to have similar tombs at this site. Each of these tombs could contain three to nine people. Archaeologists are certain that the tombs were closed after burial, but according to history books, in 330 BC, during Alexander the Great's military expedition to Persia, Persepolis was burnt down either accidentally or intentionally by Alexander the great. Surprisingly a few columns remained afoot after Alexander had overthrown the Achaemenid Empire, whereas protective layers of ash covered those imposing columns, which could be a symbol of Achaemenids' power. But on the other hand the doors of the tombs were smashed and the tombs were looted.
In front of these tombs, there's a small tower, which is known as the "Cube of Zoroaster" (Persian: Ka'bah Zardusht). Zoroaster's Cube, maybe a tomb, maybe a repository of funerary equipment or maybe a Zoroastrian fire temple.
After the fall of the Achaemenid empire, Naqsh-e Rostam remained important to Persians. In 228 AD Ardashir I, announced himself the continuator of the Achaemenid Empire, after dethroning the last Parthian King. He and his successors, Sassanid kings, had reliefs depicting themselves, either in imperial conquests or meeting with Gods, carved under the tombs to indicate their link with the past rulers of Persia. Sassanid King, Shapur I, son of Ardashir I, had a monumental relief cut out in the rock, showing he made "Phillip the Arab", ruler of the Roman Empire, kneel, and taken the defeated roman emperor Valerian as a prisoner. This one is considered the most important relief in Naqsh-e Rustam. Other reliefs were added by Shapur's successors.
Two kilometres to the south of Naqsh-e Rustam, there are remains of an unfinished building, it may have been the base of the tomb of Cambyses, which was going to be similar to the tomb of his father "Cyrus the great".
Architecture and Monuments of Naqsh-e Rostam
Oldest rock relief
Oldest relief on the cliffs, belongs to the Elamite era and dates back to 1000 BC. Though it is severely damaged by the order of Bahram II, it depicts two figures of a God and a Goddess. Bahram II ordered for this relief to be removed and replaced with figures of him and his courtiers.
Achaemenid Tombs
The tombs of Naqsh-e Rostam which have been carved out of the rock face, at a considerable height above the ground, are cross shaped and are sometimes called the "Persian Crosses". Building tombs above the ground level, was in accordance with Zoroastrians' belief, which says to bury the deceased where it prevents water and soil contamination. The entrance to each tomb is at the centre of each cross and opens to a small chamber where the king lays in a special tomb called "Sarcophagus". These tombs mainly have architectural decoration, but the facades include large panels over the doorways, each very similar in content, with figures of the king being invested by a god, above a zone with rows of smaller figures of soldiers and officials. paying tribute. The order of the tombs from left to right:
Darius II, Artaxerxes I, Darius I, Xerexes I.
Except, for the tomb of Darius the Great, identifying the owners of other tombs are based on speculations, as the relief figures are not individualized portraits.
Cube of Zoroaster
This structure which dates back to the 5th century BC, is a Achaemenid square tower, located in front of the Tomb of Darius I. It is a copy of a sister building in Pasargadae, known as "Solomon's Prison". It was either built by Darius I or his sons. There is an inscription in three languages from Sassanid era, on the walls of this place, which considered as one of the most important inscriptions from Sassanid time.
Sassanid Reliefs
Seven huge rock reliefs at Naqsh-e Rustam depict monarchs and victories of Sassanid kings. They approximately date back to 225 to 310 AD:
Investiture of Ardashir I, the founder of Sassanid Empire (circa 226- 242 AD): The word ērān is first attested in the inscriptions that accompany the investiture relief of Ardashir I (r. 224–242) at Naqsh-e Rostam
Triumph of Shapur I (ca. 241- 272 AD)
Grandee relief of Bahram III (ca. 276- 293 AD)
Two equestrian reliefs of Bahram II (ca. 276- 293 AD): Located immediately below the tomb of Darius I.
Investiture of Narseh (ca. 293- 303 AD)
Equestrian relief of Hormizd II (ca. 303- 309 AD): Located below the 3rd tomb.
First excavations were conducted in 1923 by Ernst Herzfeld, who has unearthed some Sassanid fortress like structures. Further excavations were performed between 1936 and 1939, by Erich Friedrich Schmidt. Shapur I's inscription and buried Sassanid rock reliefs were found during this set of excavations. He and his team found remains of two adobe structures and a water reservoir.
When and how to go to Naqsh-e Rostam
For visiting Naqsh-e Rustam, you will obviously need to travel to Shiraz. Naqsh-e Rostam is about 70 km from Shiraz (about 56-minutes drive), and 71 km from Pasargadae. Providing you're a new comer, we advise you to take tours to visit the sites, especially ones that are located outside of the city of Shiraz. Iran Negin Travel team will assist you in finding suitable tours, we will also take care of your accommodation. For tourist cities such as Shiraz, you need to make sure to take care of your hotel reservations before hand.
By contacting us, you will benefit from, a more organized trip, regarding, transportation, timing and accommodation. You can contact us through the social medias, email, site chat and by other ways before you leave your home country.
Along with Persepolis and Pasargadae, Naqsh-e Rostam is one of the most important Iran tourist attraction highlight is an essential item in Iran tours packages, especially in Iran cultural tours. Although is historical site, normally iran tour operators like Iran Negin Travel include Persepolis in their Iran Eco tours, Iran adventure tours, Iran religious tours and of course the Shiraz daily tours.
Through the Iran tours packages you can arrange your trip to Iran in order to visit this site along with Necropolis (Naqsh-e Rustam) and Pasargadae. During your trip to Iran you need to be sure to have enough time to visit this site when you are in Shiraz, or going to Shiraz from Isfahan or Yazd.
Our Iran culturan tours are mostly provide the option to explore Naqsh-e Rostam.
Gallery
---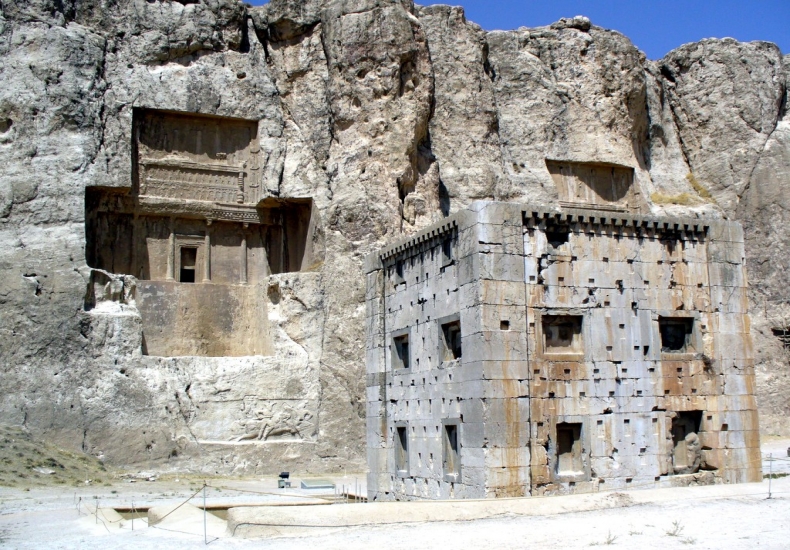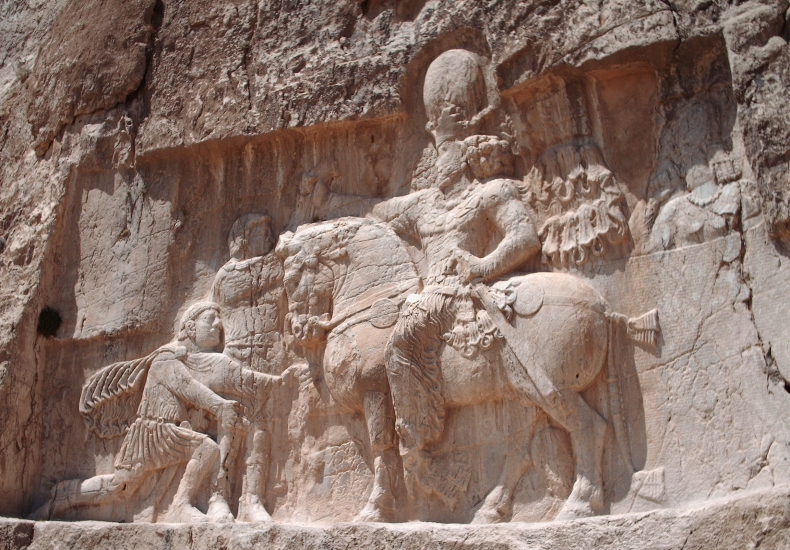 Additional Information
---
Opening Hours
Winter Time: 08:00 - 18:00
Summer Time: 07:30 - 20:00
Admission Entrance
20.000 IRR
Map
---