Rayen Castle
---
What makes ancient monuments, buildings, structures and even carvings amazing, are the level of their strength and resistance and the fact that they have been able to stand through the test time. Wether it was due to their materials, architecture, their special geographic location or a combination of all of the above, plus with a touch of luck, they turned out to be the symbols of our lands and cities, attracting visitors even from faraway places.
Rayen castle of Kerman, internationally registered as the second largest adobe castle after Bam Citadel (Arg-e-Bam), is one of those structures that amazes us and gives us goosebumps, trying to take in the magnificence of this brick and mud fortress. By visiting this castle, you will get the chance to travel through history.
Whether you're planning to visit Kerman on your next trip to Iran or planning it for your later journeys, you can gain some insight about one of the famous attractions of this province, by reading this article.
Among various historical and ancient structures in Kerman province, Rayen Castle is of particular importance. With an area of more than 22,000 m2 (1/4th of Arg-e-Bam's area), a 44000 m2 boundary has been considered for this structure, in order to prevent unwanted damages to the site and its belongings, due to growing civilization of the neighbouring cities.
Rayen Castle (Persian Arg-e-Rayen), is the 2nd largest registered adobe structure in the world after Arg-e-Bam (Bam Citadel), which more than 80 percent of this citadel were destructed during an earthquake in 2003. Arg-e-Bam is currently undergoing restorations and reconstructions.
Arg-e-Rayen is located on top of a hill, at the hillsides of Hazar mountain and in the west of today's city of Rayen. This enormous castle dates back to the pre-Islam period and Sassanid Dynasty.
This adobe structure with its crenulated walls, is 2200 m above sea level, and reminds us of the history that we inherited from our ancestors. It is believed that, no army and commander have ever been able to pass through the gate of this citadel, and make it to the other side of its walls. It has remained impermeable during various battles and invasions. In terms of architecture and materials, Rayen Castle has many similarities to Arg-e-Bam. Rayen castle is ¼ times smaller than Arg-e-Bam regarding its area.
History of Rayen Castle
Rayen Castle or Rayen citadel has managed to get through a vicissitudinous history. As you may already know, a "Citadel" (Persian: Arg), is a group of small fortresses or castles, built inside a bigger fortress, where city's administrative affairs were taken care off.
According to some historical resources, there were other castles and fortresses around Rayen castle, which were later destroyed. Around the citadels were the governmental castles, where people would take refuge in them during the battles.
Rayen castle is located in the city of Rayen, which presumably dates back to Sassanid era. It is believed that Rayen city was located in the middle of the trading route from Kerman to Jiroft, and many large caravans would stop at this city to rest and reenergize. This city was one of the main trading centres and was famous for weaving valuable textiles. The products were then exported to faraway countries such as Egypt. Vastness of Rayen Castle and its closeness to the city, made it a perfect stop for the caravans. According to some historical books, during the reign of the last Sassanid king, Yazdgerd III, Arabs took over the city of Kerman, but all of their attempts for entering the castle failed. Quoted from other sources, the present castle was built on the ruins of older castles and structures, which were destructed due to natural causes such as earthquakes. Unique architecture and geographical location have protected it from serious damages. That is why it carries the title of the "Most robust and impermeable structure". It is estimated, that the current structure was built around 500 years ago.
During the ruling of Mirza Hossein Khan Rayeni, Arg-e-Rayen was utilized as a commanding fortress. His grandson was entrusted the responsibility of managing the castle during Zand dynasty and later after the disintegration of the Zand dynasty, grandchildren of Mirza Hossein resided in this castle.
One thing that distinguishes this city from other cities, is the fact that around 5000 people used to live here until 150 years ago. Through the years it had been gradually forgotten, and its homes were turned into ruins. In 1995, Cultural Heritage Organization decided to revive this city, and started the process of reconstruction and restoration of Rayen Castle. Many parts of this castle are already restored and reconstructed.
Architecture of Rayen Castle
Rayen Citadel is square shaped. The towers built around it, were intended to protect the castle and the homes. Tall 10-metre walls surround the castle. The only way to enter the castle was via a single entrance gate located on the eastern part.
Rayen Castle gives us a perspective of how residential fortresses and castles used to look like in the old cities of Iran. This citadel consisted of three main parts, "Khan-Neshin" (where khans resided), "A'yan-Neshin" (where lords and wealthy people resided), "Aameh-Neshin" (where ordinary people resided). Some areas were allocated to stables, gymnasium (Persian: Zoorkhaneh), mosques and etc. Each of these parts were separated from each other with walls, towers and stairs. It may be interesting to know that, the majority of the houses were built in two levels.
The distinguishing factor of various parts of this large castle, is the material used in building them. The neighbourhoods were divided based on people's social class, and their financial and occupational state. There were separate neighbourhoods for merchants, farmers, crafters, priests and people closer to the government. Unsurprisingly, the best building of the citadel was assigned to the ruler of the city.
Around the Arg-e-Rayen you can witness four 11 metre towers, which were constructed for the purpose of protecting the area of the castle. For security measures, an artificial trench was built on the southern side of the castle. The number of the towers reaches the number 16, with another 12 towers located inside the citadel area.
Different parts of Rayen Castle
Rayen castle consisted of 36 parts. We will only go through some of them very briefly.
· 16 Towers
16 towers were built for the purpose of protecting the castle, and each of these towers watch guarded and covered a specific area and neighbourhood. For instance, the 2nd southern tower would watch guard around the castle, the 2nd eastern tower would cover "Jolgeh" and "Qarantineh" areas. The mother tower was connected to the rest of the towers, gathered the information it received from the other towers and sent it to the governmental castle.
· Buildings
Other buildings were as the following:
Governmental castle
A'yani Castle (belonged to the steward and oldest person of each neighbourhood)
Warehouse: A multi-purpose building which later turned into a mosque.
Temporary fire temple: It was only used during holidays, Eids and ceremonies.
Permanent fire temple: The fire in this temple were put out to pay respect to the sixth Shia Imam, Jafar Sadegh, and later turned into a gymnasium (Persian: Zoorkhaneh)
Quarantine: People who wanted to enter the castle from outside of the castle, were kept in the quarantine, they would go through series of medical check-ups, and if they weren't infected with any types of diseases, they would be given the permission to enter castle.
Blacksmiths, carpenters and whitewashers working place
Watch guard department
Trading bazaar
Residence of the ruler's representative
Facilities
Arg-e-Rayen is equipped with the following facilities:
Professional guides
Booths showing and selling handicrafts such as carpets and knives.
Bathrooms
Teahouse
Parking lot
Park
Arg's Bazaar
Rayen castle used to be one of the important centres for building swords, guns and knives. Knife making industry is quite popular in the city of Rayen, and a number of its workshops are still in use for making handicrafts. People of this area, have their unique way of making knives. Other accessories such as scissors, sugar cube breaker (Persian: Ghand-Shekan), Sickle (Persian: Daas) and Pincers (Persian: Anbor) are also manufactured in these workshops.
As quoted by a reliable historical source, during a battle, the army defeated the Ottomans with the handmade guns, manufactures by craftsmen of Rayen city.
When and how to go to Rayen Castle
Given that Kerman is considered a city with the characteristics of a desert, the best time to travel to Kerman is during Spring and perhaps in Autumn.
If you travel to Kerman, you will probably need at least half of the day to see the castle. Some other sites are also there for you to see, such as "Rayen Falls". Make sure you schedule your visit to the castle in a way that you will be able to see the "Rayen Falls" before the sunset.
While you're in Kerman you can also visit these following sites: "Shah Nimatullah Wali shrine", and "Shazdeh Garden".
Seeing Arg-e-Rayen, requires you to travel to the city of Kerman and staying in one Kerman's hotels. Make your hotel reservations before hand, preferably before you start your journey to Kerman. Rayen is located 100 km from the city of Kerman and on the route of Kerman to Jiroft. Best way to get to the city of Rayen is to take the Mahan-Bam road.
This was specifically for people who are familiar with the area. As a tourist, it is highly recommended to take private or group tours to the sites, especially the ones that are located outside of the main cities. You will both benefit from their professional guiding and detailed information. Travelling with a tour, will definitely bring you a plenteous experience regarding information you receive. Tours are arranged via travel agencies. Nearly all travel agencies in Iran have their own websites. So you can contact them personally or via telephone, e-mail and other communication tools.
Rayen Castle hosts thousands of tourists who visit Iran and Kerman. Although Kerman is not much famous like Isfahan and Shiraz, many art and history lovers plan to visit Kerman and of course this beautiful and architectural sight.
Iran Negin Travel, as an Iran tour operator offers among with Iran tourism services such as Iran visa, Iran hotel booking and etc. , Iran tours packages through which the passengers can discover Iran as they desire. As a very common request, Iran cultural tours packages and Iran daily tours. You can chose among our Iran tours packages and add Kerman to your program and enjoy your trip to Iran.
Our team is eagerly ready to provide you all the services from Iran visa to Iran tours packages. Don't forget to contact us!
Gallery
---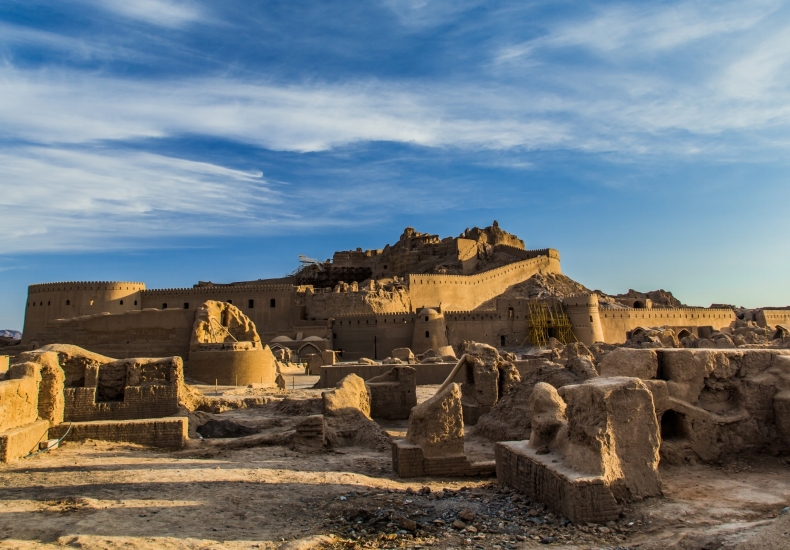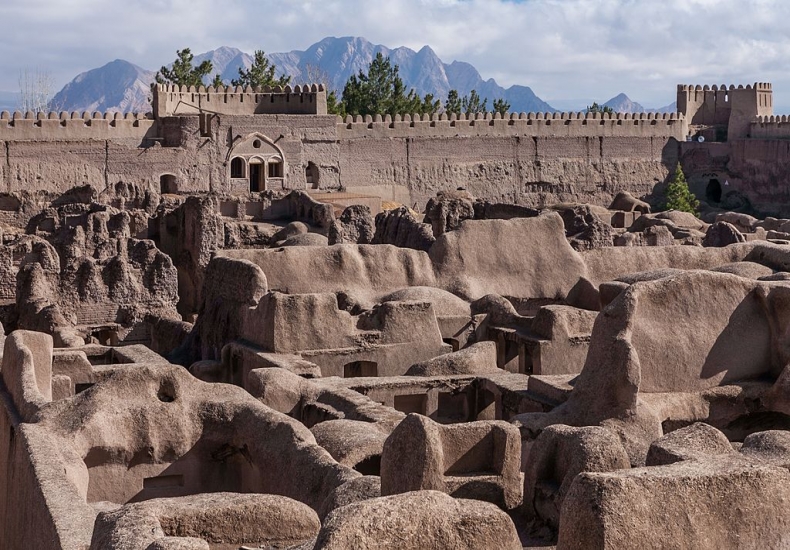 Additional Information
---
Opening Hours
08:00 - sunset
Admission Entrance
150.000 IRR
Map
---