Tabriz Bazaar
---
The term of Bazaar in ingrained with the fact that you can find anything and everything inside the Bazaar. As it has been said in one of the famous Persian proverbs, in there you are able to find "From the milk of the chicken to the life of a human", which can be interpreted as being able to find even the most impossible things. Although it may be an exaggeration, but it can be true at some levels.
By referring to the history of Bazaar we gather that, a bazaar is an enclosed marketplace or street where goods and services are exchanged or sold. The term has originated form the Persian word "Bazar" and is sometimes referred to as "the network of merchants, bankers and craftsmen" who work in that area. The current meaning has originated in Zoroastrian, Persia, and spread from Persia into Arabia and ultimately throughout the Middle East, now it is widely used all around the world. Evidences for the existence of the Bazaars, suggest that it dates back to 3000 BCE. Due to lack of archaeological evidences, there are very little information regarding the evolution of the Bazaars, but indications suggest that Bazaars were initially developed outside the city walls and they were often associated with giving services to caravanserais.
Now that we gained a little bit of information about the history of Bazaar, it is now apropos to get to know one of the famous and traditional Bazaars of this ancient land. And give this cradle of civilization and the birthplace of Bazaars, the validation and credit it deserves.
Introduction to Tabriz Bazaar
Tabriz, the capital of Eastern Azerbaijan, has been one of the important communicational and economical centres in Iran, due to its geographical location which was on the way of trading routes from west to east and north to south.
Marco Polo has mentioned Tabriz as a city with perfect locality and as being an export destination for many merchandise goods from India, Baghdad, Mosul and Hormuz. A Bazaar that will amaze you with its vastness and people's activities. One of the famous travellers and explorers called "Ibn Battuta", refers to Tabriz Bazaar as one of the best Bazaars he had seen. He also mentions that, "Javaherian Bazaar" (Jewel Bazaar), was his favourite.
Tabriz Bazaar is the biggest registered enclosed Bazaar both in Asia and in the world. European merchants would arrive to Bazaar of Tabriz, after passing through various cities and Bazaars in Turkey. Approximately one fourth of Iran's trade and commerce during Qajar era was managed by the Bazaar of Tabriz. In terms of activity rate, it was way more active back then.
Tabriz Bazaar which is an enclosed and interconnected complex, with an overall length of 1 km, is the biggest Bazaar in the world. In 1975, this Bazaar was registered as one of Iran's National Monuments. The title of "The Longest Bazaar in Iran" is awarded to "Zanjan Bazaar" with a length of about 2 kilometres.
Due to the special characteristics and specifications of the Bazaar of Tabriz, it was registered as a UNESCO National Heritage Site in year 2000.
History of Tabriz Bazaar
Tabriz Bazaar's exact date of construction is not known, but the stories told by many world travellers about Tabriz Bazaar from 4th century until the Qajar era, give us a hint of the proximate date of its construction. Locality of Tabriz on the way of Silk Road trading route, which has also been considered as a transit road for many caravans coming from various Asian, African and European countries, has brought significant prosperity to both the city of Tabriz and its Bazaar.
About 300 years ago a massive earthquake resulted in a complete destruction of Tabriz Bazaar. In 1779, the Bazaar was reconstructed with the order of the ruler of Tabriz.
First plan of the Bazaar of Tabriz, were drawn in 1909, by "Asad ollah Khan Maraghei" as a part of the "Dar ol-Saltaneh" map (Capital of the Kingdom which was Tabriz at at that time). Parts of the north east side of the Bazaar and most of its important sections such as "Timcheh" (Plazas), Caravanserais were specified by their names on the map of Dar ol-Saltaneh.
Architecture of Tabriz Bazaar
Imagine downtown Tabriz as a quadrilateral area, Tabriz Bazaar is located at the centre of this area. Tabriz Bazaar consists of about 5500 commercial offices (Persian: Hojreh), shops and stores, 40 occupation types, 35 Serais, 25 malls (Persian: Timcheh), 30 mosques, 20 Rasteh (Rasteh: A series of shops in a same occupational group, such as Rasteh Javaherian, which means, "A series of Jewellery shops alongside of each other"), 11 corridors, 5 Bathhouses, and 12 schools.
Tabriz Bazaar includes Aali Qapoo on the east, Jame Mosque on the west and, parts of Mehran river.
A series of shops from east to west and north to south make up the Bazaar of Tabriz. Each of the Bazaars inside of the Bazaar of Tabriz, are 4 to 5 metres wide. The height of ceilings in this Bazaar, unlike other Bazaars, are about 5 to 6 metres high, and this is due to the cold weather of Tabriz.
The main Rastehs of the Bazaar (Refer to the first paragraph of this section) are connected to each other via secondary Rastehs. Main components of the Bazaar such as Timchehs (Also refer to the first paragraph of this section) and Serais were built in the area between the main Rastehs of the Bazaar. And at the intersections of these Rastehs, a beautiful Foursquare (Persian: Chahar-Souq) with beautiful domes and decorations were built. Biggest dome of the Bazaar is "Timcheh Amir dome". Mozaffarieh Timcheh is the most beautiful Timcheh in Tabriz Bazaar.
Interior parts of the Bazaar
Rasteh: (Refer to the first paragraph of Architecture)
The main element of the Bazaar comprises main and secondary "Rasteh"s, stretching from city's gates to the city, main square and Jame Mosque in the past. You will find more than 20 of these "Rasteh"s in Tabriz Bazaar.
Some of the significant "Rasteh"s are: Old Bazaar and New Bazaar Rasteh, "Daveh-Chi" Bazaar, Shoemakers Bazaar (Persian: Bazar-e- Kaffashan), Safi Bazaar and so on…..
Serai
The term "Serai" refers to outdoor courtyards of Caravanserais. In the past, porters of the Bazaar would transfer the merchandise goods and products from Caravanserais to these areas. Some of the famous Serais of the Bazaar of Tabriz are: Omid Serai, Haj Rasoul Serai, Amir Seria, Do-Dari Serai, Kache-Chi-Lar Serai, Darb-e-Abbasi Serai, Haj Mohammad Gholi Serai, Mirza Jalil Serai, Almanha (Germans) Serai in Shoemakers Market (Persian: Bazar-e-Kaffashan ), Mirza Mehdi Serai, Haj Taqi Serai, Khan Serai, Gorji-Lar Serai.
Timcheh (Refer to first paragraph in Architecture section)
Timchehs are divided into four groups based on their type of utilization:
1. Public area for storing products and goods
2. Ground level small shops (Persian Dukkan) for trading purposes
3. The floor above the Timcheh, intended for non-Tabrizi merchants, who used to go there for trading.
Some of the famous Timchehs of Tabriz Bazaar are as the following:
Timcheh Amir, Timcheh Haji-Safar-Ali- Timcheh Mir-Abolhassan, Ooch Timcheh-lar (Ooch in Turkish refers to number 3), Timcheh Mozaffariyeh, Timcheh Sheikh-Kazem, Timcheh Sadeghiyeh, Timcheh Haji-Muhammad-Gholi, Timcheh She'rbafan, Timcheh Abachi, Timcheh Ghandforooshan (Ghandforooshan: Sugar cube sellers), Timcheh Shazdeh (Shazda az pronounced by Turkish people), Timcheh Bazazan (Bazazan: Mercers), Timcheh Malek, Timcheh Khan, Timcheh Dar-e-Abbasi.
Most famous part of this big complex is "Timcheh Mozaffariyeh" which dates to 1888, back when "Mozaffar –ol- Din – Mirza-ye- Qajari" were a prince. It was constructed by one the well-known merchants of Tabriz, "Haj Sheikh Muhammad Jafar Qazvini".
Back then, if a new constructed structure caught the attention of the Prince, they would have to dedicate the structure to the prince. So, "Mozaffar –ol- Din – Mirza-ye- Qajari" dedicate this "Timcheh" to the Qajar prince and named it after the name of prince. The prince was very pleased, so he gave this well-known merchant very special privileges.
Timcheh Mozaffariyeh is of high importance in Iran, as it is one of the most important centres for importing and exporting of carpets in Azerbaijan (Iran's Azerbaijan) and Iran.
Bazaar Corridors
The dome shaped areas at the entrance of some of the big Serais of the Bazaar, are called corridors (Persian: Dalaan). Here are some of the famous corridors (Dalaan) of the Bazaar:
Dalaan Mirza Mehdi, Dalaan Mirza Muhammad, Dalaan Do-Dari, Dalaan She'r-Bafan, Dalaan Haj-Rahim and Dalan Khooni.
Bazaars and Markets inside the Tabriz Bazaar
Bazaars and little bazaars called Markets (Persian: Bazarche), each of them selling particular and specific product or products, form the big complex of the Bazaar of Tabriz.
1. Amir Bazaar
Built by "Mirza Muhammad Khan Amir Nezam", the son of "Shah Suleiman", now is one of the most prosperous bazaars in Tabriz Bazaar.
2. Crystal Sellers Bazaar (Persian: Bazar-e-Bolourforoushan)
Best crystals of Tabriz were sold in this Bazaar.
Famous parts of this Bazaar, are "Timcheh Ghandforooshan" (Sugar cube sellers),
Mirza Mehdi Serai, Dalaan Badamchi-Lar, Dalaan Haj Sheikh, Dalaan Mirza Mehdi, Timcheh Mozaffariyeh, Gorji-Lar Serai.
3. Bazaar Tabriz Rasteh (For the definition of Rasteh refer to the first paragraph of "Architecture")
This is the biggest market in Tabriz Bazaar, where consumables are sold and is also known as "Bazar Melli" (Melli: National)
Famous and important places in this part of the Bazaar:
Haj Seyyed Hussein Serai, Dalaan Khan, Timcheh Haj Sheikh, Timcheh Haj Safar Ali, Timcheh Haj Muhammad Gholi, Haj Seyyed Hussein new Serai, Garchilar Serai, Timcheh Do-Dari, Haj Muhammad Gholi Serai, Do-Dari Serai, Sheikh Kazem Serai, Kacheh Chi-Li Serai, Mirza Mehdi Serai, Mirza Jalil Serai, Dar-Abbasi Serai, Timcheh Haj-Taghi.
4. Shoe Makers Bazaar (Persian: Bazar-e-Kaffashan)
This Bazar can be regarded as the main shoe manufacturer in Tabriz.
Famous and important parts of this Bazar are:
Timcheh Omid, Timcheh Haj Abolghasem, Haj Abolghasem Serai
5. Yomni-Douz Bazaar
"Yomni" is a type of shoe that used to be sold in this Bazar.
Important places of this Bazar are:
Timcheh Shafi', Agha Shahzadeh and Shafi' Serais
6. Aba-Chi Bazar
Important places of this Bazar are:
Mir Ismail Serai, Timcheh Husseini, Timche She'r-Baghan and Timcheh Akhlaghi
7. Haram-Khaneh Bazar
Important and famous places of this Bazar are:
Timcheh Hashemiyeh, Saheb-Divan Serai, Almani-ha (Germans) Serai, Timcheh Sa'diyeh
8. Sadeghiyeh Bazar
If you're looking for carpets, you can find them here. This bazar has always been a place for selling carpets.
Important and famous places of this Bazar are:
Dalaan Khooni, Seyyed Hussein Serai, Grand Shahzadeh Serai, Shahzadeh Mini Serai, Do-Dari Serai, Old Seyyed Hussein Serai, Timcheh Haj Rahim
9. Shishe-Gar-Khaneh Bazar (Shishe-Gar: Glassblower)
In the past, this bazar was particularly for making and selling different types of glasses. There's no sign of that today, as most of the shops sell cosmetics and stationeries. The important and famous places of this Bazar are:
Haji Rasoul Serai and Mirza Ali Naghi Serai.
These two parts have been destructed by the municipality of Tabriz, and a park were built at the site of these two instead.
The external environment of Tabriz Bazaar
Caravanserais which we are all familiar with, form the external environment of the Bazaar.
In the past, the goods and products which were destined to go to the Bazaars, would be carried to the caravanserais by pack animals, they were unloaded there, and then porters would carry them to the serais and storehouses located inside the bazaar.
Caravanserais were decorated with pools, ponds and flowerbeds and were usually equipped also with water reservoirs and rooms built intended for residing and resting. Few of the famous Caravanserais of the Bazaar of Tabriz are:
Keshmesh-Lar-Chi Caravanserai (Keshmesh: Raisin), Bozorg-Amir Caravanserai, Haj Seyyed Kohneh Caravanserai, Haj Mirza Muhammad Caravanserai and Haj-Abolhassan Caravanserai
Social service centres in Tabriz Bazaar
Gradually and over time, religion blended into the bazaar, as a result religious schools, mosques and Husseiniehs (place where the martyrdom of lmam hossein is mourned for) were added to the architecture of the Bazaar. On the other hand, with regards to the important social role Bazaar played in the daily life of people, structures and buildings with social and service functions, such as restaurants, teahouses, Bathhouses, were built inside the Bazaar. Each of them have their own regulations.
Inside the Bazaar you will find 12 religious and Islamic schools. Talebiyeh, Jafariyeh, Sadegiyeh, Akbariyeh and Haj Ali Safar Ali are the famous schools of the bazaar. 30 Historical Mosques with special architectures and stalactite domes are located in Tabriz Bazaar:
Jame' Mosque (Friday Mosque), Hujjat ol-Islam Mosque, Khale-Oghli Mosque, Dinvari Mosque, Mofid-Agha Mosque, Gizlali Mosque (Mirza Yusef Agha Mosque), Maghbareh Mosque, Mojtahed Mosque, Haftad Sotoon Mosque ( a mosque with 70 columns), Ayatollah Shahidi Mosque, Molana Mosque, Dabbagh-Khane Mosque, Haj Safar Ali Mosque, Badkoobei Mosque, Eshraghi Mosque, and Sadeghiyeh Mosque are some of the historical mosques of the Bazaar.
For personal purposes, historical bathhouses and sudatories are located in the area of the Bazaar, which are of high importance regarding their history and architecture. Some of these bathhouses are:
Ferdowsi Bathhouse, Mirza-Mehdi Bathhouse, Nowbar Bathhouse, Khan Bathhouse, Seyyed Golabi Bathhouse and Ghazi Bathhouse.
In 2013 Tabriz Bazaar were chosen as one the five selected architectural designs and were awarded with "Aqa Khan architecture prize".
Quotes about Tabriz Bazaar
Due to the high importance of this Bazaar in terms of its geographical and economical location, it has been a destination to many world travellers who had travelled through the Silk Road trading route. Ibn Battuta, Marco Polo, Jackson, and Yaqut al-Hamawi, were some of the famous world travellers who had been to the Tabriz Bazaar and have praised this bazaar for its glory and prosperity.
When and how to go to the Tabriz Bazaar
In order to see Tabriz Bazaar, you will need to travel to the city of Tabriz. Due to the fact that Tabriz is 630 km from Tehran and 150 km to Urmia, it would probably be a good idea to stay at least one night in the city of Tabriz. Tabriz is a big city and is the host to many visitors especially during spring, so make sure you make all of your hotel reservations before you leave for Tabriz or anywhere else.
Perhaps long before you depart to Tabriz, and even reserving your hotels in different cities way beforehand, either after you arrive in Tehran, or from your home country.
If you chose to make your arrangements and reservations after you arrive in Tehran, Iran Negin Travel, as an Iran tour operator, can providing you with useful information and plans best suited for your schedule, budget and your overall criteria. As we are based in Iran, we will also be of good help in finding reliable and good quality tours. Our website is accessible from anywhere in the world and will be giving you advices and recommendations via the Internet.
The most detailed address that can be given for Tabriz Bazaar is that it is located in downtown Tabriz and is easily accessible with taxis and buses. Given that this Bazaar has 4 entrances, make sure you know which part of it you are planning to see, to enter from the closest entrance to your desired Bazaar. We recommend you to spend as much time as you want inside the bazaar and have your lunch in one of the traditional restaurants of the Bazaar.
Tabriz Bazaar is one of the wonders of Bazaars in Iran, so Iran Negin Travel team recommend you to visit Tabriz and Tabriz Bazaar. Thorugh our Iran tour packages you can visit every single important sights in Iran. Our Iran tour packages are made to plan your trip to Iran with unique services. We can make your trip to Iran a wonderful trip.
Contact us and get the best offers for Iran tours packages and visit Iran.
Gallery
---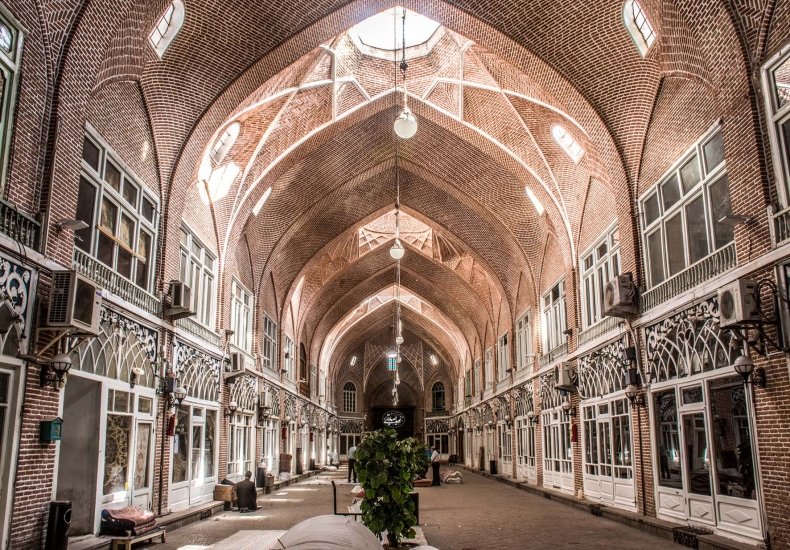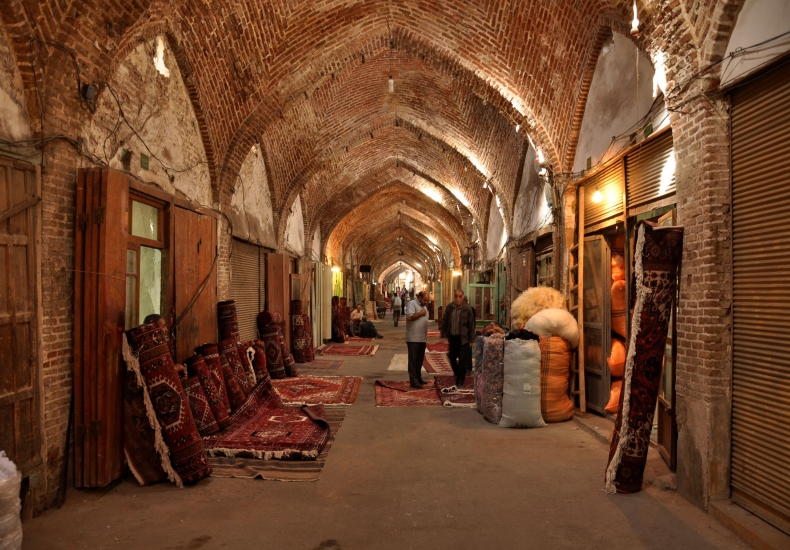 Additional Information
---
Opening Hours
08:00 - 21:00
Admission Entrance
Free
Map
---