Tomb of Saadi
---
Tomb of Sa'adi or Sa'diyeh is one of the main attractions of the city of Shiraz.
The mausoleum of Saadi is on every tourist's "must see places" list when travelling to Iran. As an Iranian and non- Iranian tourist attraction, and as one of Iran's highlights, which is a host to many visitors every year, it's apropos to talk about Saadi's background and the history of his mausoleum.
Who was Saadi
Abu- Muhammad Muslih al- Din ibn Abdallah Shirazi also known as Sa'adi of Shiraz or popular by Saadi Shirazi among Persian, was born in 1208 (606 AH) and according to some sources it was 1189. Given that there are no independent sources to confirm the exact year of his birth, both of these years have been derived from his writings and his literary works. Saadi was a Persian poet who lived in the 13th century and in the medieval period. He is well known for his deep social and moral thoughts and is recognized as a master of classical literature and have been known by many appellatives such as "The master of Speech", "The king of Speech", "and Absolute master of Farsi language". He is the Master among Persian scholars. The reputation he has is because of the eloquence in Persian language.
Saadi was born in Shiraz and was educated since his childhood. He always reminisces of his father's love and teachings. He lost his father at the age of 12 and was raised by his grandfather from his mother's side. He took preliminary literary and religion courses in Shiraz. Most of his childhood and adolescence years were coincided with Mongol invasion. He then left Shiraz for Baghdad and in 1226 started studying Islamic Sciences, law governance, history and Arabic literature in Nizamiyya University.
Saadi was a man of travelling and tells many anecdotes of the places he had travelled in Golestan and Bustan. He had travelled to Khwarezm, Anatolia, Syria, Egypt, and Iraq. He then joins a group of Sufis and was then captured by Crusadors and spent 7 years in Acre as a slave digging trenches. He visited Jerusalem and went on a pilgrimage to Mecca and Medina. In his writings he also refers to his travels with a Turkic Amir in Sindh (Pakistan). After 30 years he came back to Shiraz before, perhaps 1257 (655 AH).
There are doubts about the time of his death, 1291 or 1295 have been mentioned. But according to the most reliable source, Saeed Nafisi, Saadi died in 1291.
Saadi's literary works
Saadi's best known works are Bustan (The Orchard) and Gulistan (Rose garden). He finished Bustan in 1257 and Gulistan in 1258. Both have been gathered in one book as "Koliyat Saadi". Bustan is completely in verse illustrating virtues recommended to Muslims and Gulistan is mainly prose and contains stories and personal anecdotes.
In addition to Gulistan and Bustan, he also wrote books of "Love poem" (Persian: Ghazals), and number of longer mono- rhyme poems (Persian: Qasidas), in Persian and Arabic. He also wrote some quatrains, short pieces and few works of prose and lyrics. Saadi, Hafez and Rumi are the greatest love poem (ghazal) writers. Saadi has been quoted by many people, inside and outside of Iran, Farsi and non Farsi speakers. Such as Alexander Puskin, Russian poet.
A translation of a part of his famous poem starting with "Bani Adam…." is written at the entrance of United Nations alongside a Persian Carpet:
"All human beings are members of one frame, Since all, at first, from the same essence came. When time afflicts a limb with pain the other limbs at rest cannot remain. If thou feel not for other's misery a human being is no name for thee."
Mausoleum of Saadi
Tomb of Saadi or Sa'diyeh is located next to Delgosha garden, in north eastern outskirts of Shiraz. Sa'diyeh is also the resting place for poets lived and honoured Saadi in future generations. A picture of the tomb of Saadi is printed on Iran's 100,000 Rials currency.
At first this place was Saadi's monastery in which he lived the last years of his life and was then buried there.
Shams al- Din Muhammad Saheb Divani first built a mausoleum over Saadi's tomb. According to Ibn Batooteh, visitors used to wash their clothes in a marble pond. It had been a tradition of the people of Shiraz before Islam and perhaps even before Saadi, because they believed it had healing effects.
In 1589 (998 AH), his monastery was ruined by the ruler of Fars, Yaghoob Zolghadr. According to Muhammad Taghi Behrouzi, the reason was Saadi's attribution to Sunni religion. Due to that, a while later, Ali- Akbar Ghavam al- Mulk Shirazi, a well-known scholar from Shiraz, replaced Saadi's tomb stone and carved inscription of Saadi's Bustan on the stone. The tomb stone has remained the same until present day.
In 1773, under Karimkhan Zand, a glorious mausoleum made of plaster and brick was built above Saadi's tomb. Downstairs was a hallway. In the room located on the east side of this hallway, was Saadi's tomb surrounded by a wooden coverage and in another room on the west side another poet, Shoorideh Shirazi who was a blind poet from Shiraz, was rested according to his will. The upper floor was the same, except that in respect to Sheikh (Saadi), no room were built above the eastern room, in which Saadi's tomb was located.
During Qajar era, the mausoleum of Saadi went under restoration works, and years later some parts of the mausoleum were repaired and restored with the order of Habib Allah Khan Qavam al- Mulk. The structure which was built under Karimkhan Zand, was afoot until 1948.
In 1948 after acquiring initial consent for reviving the building, Andre Godard who was the head of Iran's archaeologic center were invited to Shiraz to express his opinion, but after many discussions and according to National Art Association reports, in 1949 a contract was signed with a construction company. Mohsen Foroughi and Ali Sadeghi started the designing process. In March 1951, the reconstruction of the present Saadi's mausoleum which was designed by Iranian Architects and built by Shirazi workes, and was an adaptation of Isfahan's Chehel- Sotoun palace and a combination of modern and classic in terms of architecture, located in a 7700 square meter garden, was finished. In May 1953, it was officially opened with the attendance of Minister of Culture, Mahmoud Hesabi and Ali Asghar Hekmat. On that same day a statue of Saadi was unveiled at the gate of Isfahan, this statue was built by Abolhassan Sedighi.
New building of Saadi Tomb
In 1951, Mohsen Foroughi, an Iranian modernist architect, co-designed the new mausoleum of Saadi, inspired by traditional Iranian architecture.
In the front of the mausoleum, you can see 8 columns made with brown stones, and the main structure is decorated with white stone and tiling. Due to its flat façade, it may look like a square shaped structure from outside, but in reality it's octagonal shape on the inside made with marble and an azure dome.
The foundation is 257 square meters. Two porticos perpendicular to each other, are included in the structure, with Saadi's tomb placed at the corner made by them. The dome above the tomb is decorated with turquoise colored tiles. Stones used at the base of the structure are black. The columns and the frontal part of the porticos are built with red granite stone. Travertine covers the façade of the mausoleum and the interior walls are built with marble.
The tomb of Saadi is placed at the center of the octagon. On 7 sides of the mausoleum there are 7 inscriptions of Gulistan, Bustan and his mono- rhyme lyrics (Qasidas), written by Ibrahim Bouzari. Another inscription carved by Ali Asghar Hekmat describes the construction of the tomb.
Saadi's tomb stone
A light sumac colored stone was installed on Tomb of Saadi by Ali-Akbar Khan Ghavam ak-Mulk Shirazi, and Nastaliq inscriptions of Bustan were carved on the stone.
Garden area
After procurement and destruction of the neighboring houses, the area around Tomb of Saadi was expanded to 10395 m2. Iranian gardening and floriculture of the garden with beautiful flowers and cypress trees has doubled the beauty and ambiance of the environment.
Entrance
The main entrance to the garden is designed by famous architect Andre Godard, embroidered by a verse of Saadi.
Pond of Coin
In front of the portico, a pond is built, filled with coins, which have been dropped by the visitors to make their wish come true.
Qanat (Aqueduct)
There's Qanat or aqueduct with the depth of 10 meters which contains sulphur and mercury, flows under the ground and pours into the fish pond.
Fish pond
There's an octagonal shaped fish pond located on the left hand side of the mausoleum. It's been reputed that Saadi built mini marble ponds near his hermitage. Tiling of the ponds are specific to Seljuks and in 1993 it has been designed by the master of tiling known as "Tirandaz" and executed by Cultural Heritage Organization. There's a tradition that people of Shiraz have, which has been passed down through words of mouth. They wash themselves in the pond during the night of Fire ceremony (Chaharshanbe Soori), which is last Tuesday night of the Persian year.
There's also a traditional teahouse located in the underground of the mausoleum.
There are two buildings made from brick at the sides of fish pond, one of them is a public library of Sa'diye and the other one is the office.
How to get to the Tomb of Saadi
There are various public transportation options such as buses and taxis to get to the Tomb of Saadi. But if you're planning your trip to Iran and you're looking to make the most out of the tourism attractions and highlights of Iran and receive useful information on the historic and cultural sites during your Iran journey, it's recommended that you arrange interstate Iran tours and the best way to do that, is to find Iran tours that fit your criteria via Iran Negin Travel as an active Iran tour operator.
For literature lovers Saadi is one of the most well-known poets in the world due to its great poems and his reputation. Tomb of Saadi is the one of the sites those who want to visit Iran and stay in Shiraz. Tomb of Saadi is always included in our Iran tours packages, so the tourists who visit Iran can enjoy exploring this beautiful and spiritual complex and the sites inside it and have a wonderful time.
Iran Negin Travel, as an Iran tour operator, provides a wide range of Iran tourist services and Iran tours packages. You can choose among our Iran tours packages, especially Iran cultural tours and Shiraz daily tours, to visit Iran and have a memorable trip to Shiraz.
Gallery
---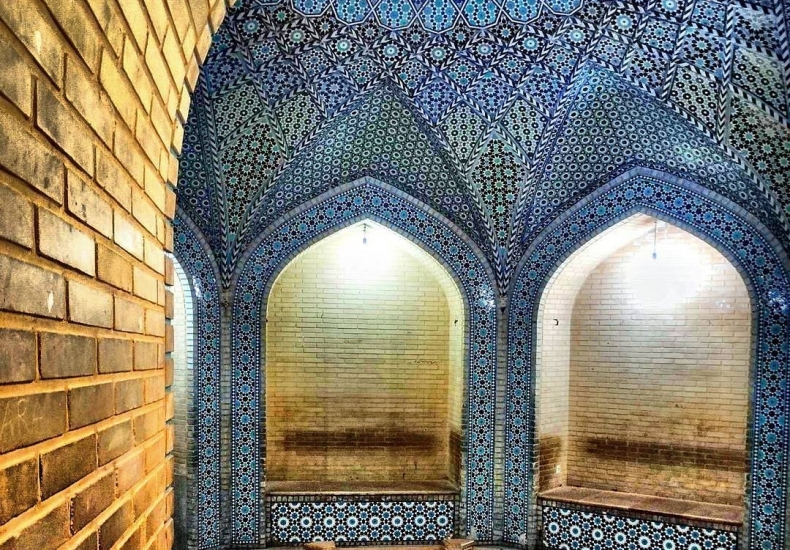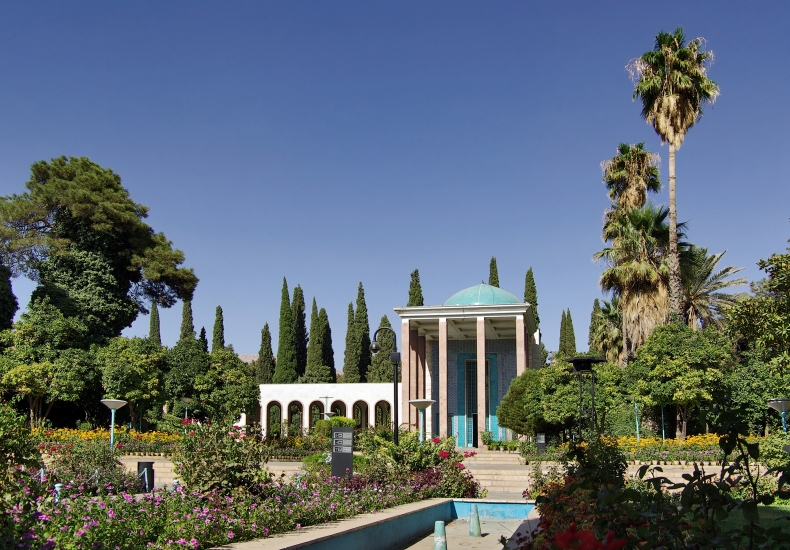 Additional Information
---
Opening Hours
07:30 - 22:00
Admission Entrance
200.000 IRR
Map
---