Varzaneh Desert
---
You can call yourself a lover of nature, only if you love the winter snow as much as the Spring and Autumn rain, if your heart beats for leafless trees during winter as much as it does for leafy trees during spring and summer, or if you love to nourish any plants be it a rose or be it a cactus, if you are amazed by the vastness of a desert as much as you are amazed by the glory of a forest. If you can talk and communicate with nature and its belongings, no matter the season or weather, then and only then you may be able to call yourself a nature lover. True love is about caring about something and someone unconditionally, and this applies to the nature as well.
We're guessing now that you have decided to travel to Iran, and experience a whole new adventure on your Iran journey, you're a true nature lover. Given that Iran is one of the countries with a diverse nature and beauty, you have made one of the best choices in your life. The one that you will remember for quite a long time. We assume, that you are willing to grasp the beauty of nature in all its forms. As a result of that assumption, we're going to introduce to you one of the famous deserts of Iran. The desert of Varzaneh.
Introduction
Varazneh Desert is also known as "Khara Desert" (Persian: Kavir-e-Varzaneh). There are various interpretations about the origin of its name, Varzaneh, but the most accurate one is what local people say. They believe that the word "Varzaneh" means "Grain Cultivation and working on a land". The name of Varzaneh has been referred to in two of Iranian Fictional Literature books, written by Muhammad Ghaemi. In the book it is said that Zoroaster has divided his followers into three groups, "Khativ" (Khativ means Friendly and Comradely), Varzaneh or Varzandegan (Varzandegan: are the farmers and poulterers) and Ariamanesh who were counted as his friends.
There's a county with the same name in the same area, called Varzaneh County with a population of more than 14,000 people. Habitation in Varzaneh County dates back to 18th century or even earlier, and was invaded by afghans, which has been mentioned in the book of "The siege of Isfahan". Both the desert and the county are located near the Gavkhuni lagoon.
Geographical Location
Varzaneh desert or Khara desert, is located in Esfahan province.
This desert is 100 km from the east of Isfahan city and 150 km from the west of Yazd city.
Varzaneh desert with an area of about 17000 acres, is bounded by Gavkhuni Lagoon on the east, by Varzaneh County and Zayandeh-Rood River on the north, on the south to Hassan Abad city and on the west to the communication axes from Hassan Abad to Varzaneh. One of the characteristics of Varzeneh desert is its sand hills which are spread from north to south.
The desert's length starts from the border of Zayandeh-rood River and ends at about 45 km from south eastern side of Gavkhuni lagoon. Varzaneh desert's width is about 35 km in northern parts and gradually decreases while heading south and it reaches to 500 m. In the northern parts, the desert takes a shape of an ellipse, and the circumference of the ellipse is surrounded by sandy hills. The hills get significantly shorter as you get closer to the center and the tallest hill is 100 m high which is located on north eastern side of this ellipse. Varzaneh desert is about 1450 m above sea level. The desert turns into two walls of sand in the southern part, and the area between these two walls consists of lime alkaline soil. These two walls unite near the south western side of Gavkhuni Lagoon and create a single wall, heading from north to south, it continues for 9 km and reaches to the south part of Gavkhuni Lagoon.
Constant wind blows and blusters has created various shapes of sandy hills, from linear shaped hills, to lunate and pyramid shaped hills.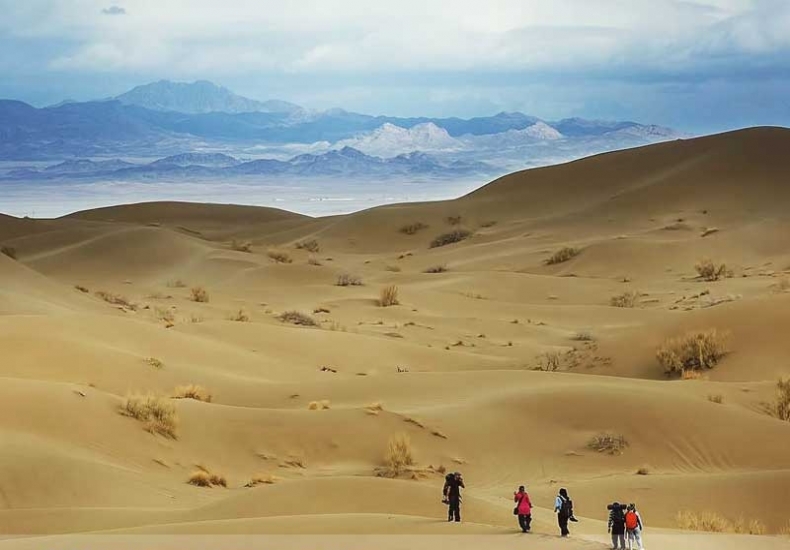 Vegetation
Much of the vegetation of this desert, consists of halcyon shrubs and plants called "Skanbil" and other sand-friendly plants. This area owed its vegetation diversity to the humidity came from the Gavkhuni Lagoon. Unfortunately, this lagoon has been dried up in recent years.
Animal Species
Varzaneh has also been a home to various types of animals and species, but following drying up of the Gavkhuni Lagoon, uncontrolled hunting and destruction of their habitat, this area has lost its richness in terms of animal species. Currently the following species can be seen in the desert of Varzaneh:
Jackal, Sand fox, Meriones, Jaculus, Falcon, Common buzzard, Sand cat, Horned viper, Echis, Diadem snake, Schokari sand racer, various types of Scorpions, Rabbit, Desert hedgehog.

When to go, How to go, Where to stay and What to Wear
While you're in Isfahan and need to go wandering in one of the deserts of Iran Varzaneh desert, it's better to arrange with us as a Iran eco tours operator. Iran Negin Travel, as an Iran tour Operator, will help you with recommending tours intended for your purpose. Given that Varzaneh desert is located 400 km from Tehran, and although there are various tours in Tehran for the desert, it's best to travel to Isfahan, and head to the desert from there, to save yourself from unwanted and unnecessary exhaustion. Desert hiking, breakfast at a desert guesthouse and camel riding, are usually included in the tours. If you're going with a group of your Iranian friends, they might take you through the desert with off-road cars. There's a guesthouse in Varzaneh desert, which makes it possible for you to stay a night in the desert. We emphasize that if you're unfamiliar with the area, do not go by yourself and accompany a group to the desert.
The best time to go to Varzaneh desert, is from November until first half of April. You can choose to go to the desert during summer and hot weather, but you will be in danger of being bitten by scorpions and tarantulas. Either way you should wear clothes appropriate for desert. Suitable clothing for desert hiking are, cotton loose baggy pants to avoid sweating. You can tighten the leg openings to prevent sand and reptile animals to get into your pants. Long sleeve light cotton top is another essential part of desert clothing. You can cover your neck with a cotton scarf, and protect your head from sunburns and avoid heat exhaustion by wearing a cap or any other sun protective hats. Don't forget to take your water bottle. Make sure you also bring a sweater with yourself, in case you get cold at night.
For adventure lovers and those who are interested in different type of tourism, visiting places such as Varzaneh Desert is very interesting amusement. Deserts in Iran always offers very good activities such as sand hiking, desert safari, camel riding and star watching during the night. Due to the location of this desert, visiting this desert can be accompany with classic visit to Isfahan and its beautiful sights.
Iran Negin Travel, as an Iran tour operator, provides a wide range of services to tourists who want to travel to Iran and have a nice time. Through our Iran tours packages, each sightseeing can be included upon the travelers request. Our Iran tours, especially Iran cultural tours and Iran adventure tours, cover this special desert in Iran.
Contact us and get the best promotions for Iran tourists services and Iran tours packages.
>