Ali Ibn Hamza Shrine
---
Ali Ibn Hamza Holy shrine is located in the city of Shiraz, capital of Fars province. Shiraz is full of wonders, no matter big and small, the more you see, the better you get in touch with various aspects of this ancient land. So while you're in the midst, at the beginning, or at the end of your Iran journey, consider visiting this Holy Shrine.
Introduction
Ali Ibn Hamza Holy Shrine is one of the historical and religious structures in the city of Shiraz. This Holy Shrine belongs to "Shah Mir-Ali Ibn Hamza Ibn Mousa Kazim", which is located in Hafez street and near the Dried Lake of Shiraz. Ali Ibn Hamza holy shrine was built by Amir Azad ol-Dole Deylami during Daylamites era and parts of it were renovated during Teymourian era.
History
Ali Ibn Hamza was the grand son of the fourth Imam, Imam Mousa Kazim. In the 9th century (3rd century AH), he escaped to Shiraz from the kings of Safavid dynasty and hid in a cave. During the days he would gather firewood and brought to
"Estakhtr gate" in order to sell them and would buy food for his family with the money he earned from selling the woods. One day the guards recognized him by the mole on his face and beheaded him and sent his head to Baghdad and buried his remains in the current place, near the 18th century bridge. Azad o-Dole has made a mausoleum over his tomb.
Although the entrance to the mausoleum is old and worn out, but in terms of carvings, is an example of the artistic nature of the people of Shiraz. There's an inscription carved on a red stone, written by Ibrahim Sultan, son of Shahrokh Teymouri.
Its entrance vestibule, exterior dome, two minarets and courtyard rooms date from the late 18th century to 19th century.
Although this Shrine is small, but you won't be able to deny it's beauty from its courtyard garden with its fountain to the shrine itself. The interior of the shrine is covered with mirror tiles and the ceiling is dome shaped.
Trusteeship of the Holy Shrine belongs to the sons of Ali Ibn Hamza.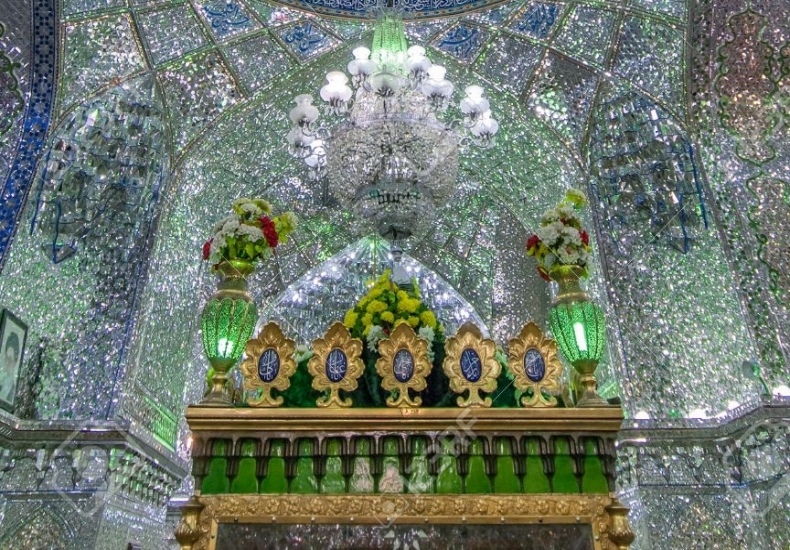 When and how to go to Ali Ibn Hamza Holy Shrine
Shiraz is famous for its weather in spring especially during May, you will experience the most beautiful Shiraz.
While you're there you can use taxis and other public transportations. The shrine is located at the end of Quran Gate Street.
Ali Ibn Hamza Shrine is one of the religious attractions in Shiraz. Iran Negin Travel team recommend you to visit Iran and Shiraz. Thorugh our Iran tours packages you can visit every single important sights in Iran. Our Iran tours packages are made to plan your trip to Iran with unique services. We can make your trip to Iran a wonderful trip.
Contact us and get the best offers for Iran tours packages and visit Iran.