Being provided with the opportunity to enjoy unbelievable silence through the most scenery Iran deserts is the most tangible element of "Desert excursion" tour Package.
As a unique plan among our Iran tours packages, this Iran adventure tours is the appropiate one for those who want to experience the infinity of the desert and enjoy doing activities during the day such as camel riding, sand hiking, desert safari and during the night star watching (very unique experience for astronomy lovers) and disvover the incredible night.
Desert part of your tour starts with Maranjab desert excursion and having overnight accommodation in one of the most ancient Iranian desert caravanserais, Maranjab Caravanserai. Later, Shahdad desert tour with the glorious Kaluts which is considered as one of the most mysterious world's natural desert structures is planned to be executed.
Furthermore, you won't miss the UNESCO World Heritage and the most significant historical and architectural sites within Tehran, Kashan, Isfahan, Yazd, and Kerman.
The whole tour package is so flexible to be customized based on you exactly require to have through your brilliant Iran desert tour.
Included Services
---
· Visa authorization number
· 10 nights accommodation in the mentioned cities
· Transportation in air conditioned vehicle
· Excursions mentioned by the itinerary
· Airport transfers (x4)
· Entrances to the mentioned sights
· Your speaking language guide
Excluded Services
---
. Visa consular fee
· International flight
· Tip to driver or guide
· Personal expenses
· Travel insurance
· Items not mentioned in the inclusions
Important Note
---
Passport
Make sure that your passport is valid up to 6 months before you travel to Iran. For more info please contact us!
Transfers and Transports
Iran Negin Travel Iran tours include air-conditioned Sedan, Minivan, Minibus and Bus for transfers and transports depending on the group size.
Domestic Flights
The maximum check-in baggage allowance is 20 kg per person.
15/12/2018

25/12/2018

$499

22/12/2018

01/01/2019

$499

29/12/2018

08/01/2019

$499

05/01/2019

15/01/2019

$499

12/01/2019

22/01/2019

$499

19/01/2019

29/01/2019

$499

26/01/2019

05/02/2019

$499

02/02/2019

12/02/2019

$499

09/02/2019

19/02/2019

$499

16/02/2019

26/03/2019

$499

23/02/2019

05/03/2019

$499

02/03/2019

12/03/2019

$499

09/03/2019

19/03/2019

$499

16/03/2019

26/03/2019

$499

23/03/2019

02/04/2019

$499

30/03/2019

09/04/2019

$499

06/04/2019

16/04/2019

$499

13/04/2019

23/04/2019

$499
*Starting from in USD per person
Overview Map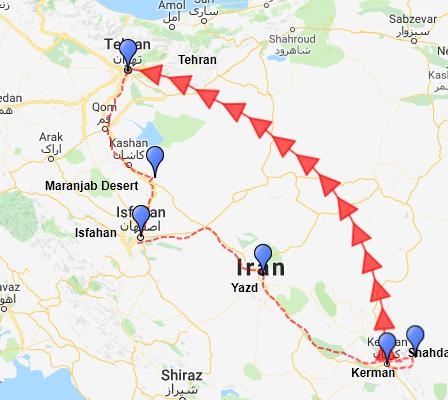 Detailed Maps
Transfer from Tehran to Maranjab Desert
Trasnfer from Maranjab to Isfahan
Transfer from Isfahan to Yazd
Transfer from Yazd to Shahdad Desert
Transfer from Shahdad to Kerman
Flight from Kerman to Tehran