Tour Description
---
Traveling to Iran is a unique experience for culture, history and art lovers. Iran Negin Travel is honored to provide the best Iran tours to those interested in Iran cultural tours, Iran eco tours, and Iran adventure tours.
If you are one of the travelers in the world who are passionate about the history of humanity and the heritage left by our ancestors, Iran cultural tours, especially Iran World heritage tour is the best Iran tour for you to explore the world heritage sites during your trip to Iran.
Through this tour, you will get to know most of Iran, exploring the most important heritage of humanity existing in Iran. The route starts from Tehran and ending in the same city. The best part of this adventure is aimed at very historic sites such as Persepolis, Pasargadae, Bishapur, Susa, the Garden of Shazdeh. These 20 days will be very memorable for you and your companions.
If you have already decided to travel to Iran and you want to receive the best possible services, you can let us plan your trip to Iran through the Iran tour packages. Please keep in mind that all Iran tours can be customized according to tour desires.
Highlights
---
Golestan Palace in Tehran
Fin Garden in Kashan
Naqsh-e Jahan Square and Masjed Jame (Friday Mosque) in Isfahan
Yazd Old Town and Tower of Silence in Yazd
Shazdeh Garden in Kerman
Nasir-ol-Molk, Persepolis, Necropolis, Pasargadae and Bishapur in Shiraz
Temple of Ziggurat in Susa
Taq-e Bostan and Bisotun in Kermanshah
Tomb of Avicenna in Hamadan
Included Services
---
· Visa authorization number
· 19 nights accommodation in the mentioned cities
· Transportation in air conditioned vehicle
· Excursions mentioned by the itinerary
· Airport transfers (x2)
· Entrances to the mentioned sights
· Your speaking language guide
Excluded Services
---
. Visa consular fee
· International flight
· Tip to driver or guide
· Personal expenses
· Travel insurance
· Items not mentioned in the inclusions
Important Note
---
Passport
Make sure that your passport is valid up to 6 months before you travel to Iran. For more info please contact us!
Transfers and Transports
Iran Negin Travel Iran tours include air-conditioned Sedan, Minivan, Minibus and Bus for transfers and transports depending on the group size.
Domestic Flights
The maximum check-in baggage allowance is 20 kg per person.
15/09/2019

04/10/2019

$999

22/09/2019

11/10/2019

$999

29/09/2019

18/10/2019

$999

06/10/2019

25/10/2019

$999

13/10/2019

01/11/2019

$999

20/10/2019

08/11/2019

$999

27/10/2019

15/11/2019

$999

04/11/2019

22/11/2019

$999

11/11/2019

29/11/2019

$999

18/11/2019

06/12/2019

$999

25/11/2019

13/12/2019

$999

02/12/2019

20/12/2019

$999

09/12/2019

27/12/2019

$999

16/12/2019

03/01/2020

$999

23/12/2019

10/01/2020

$999
*Starting from in USD per person
Overview Map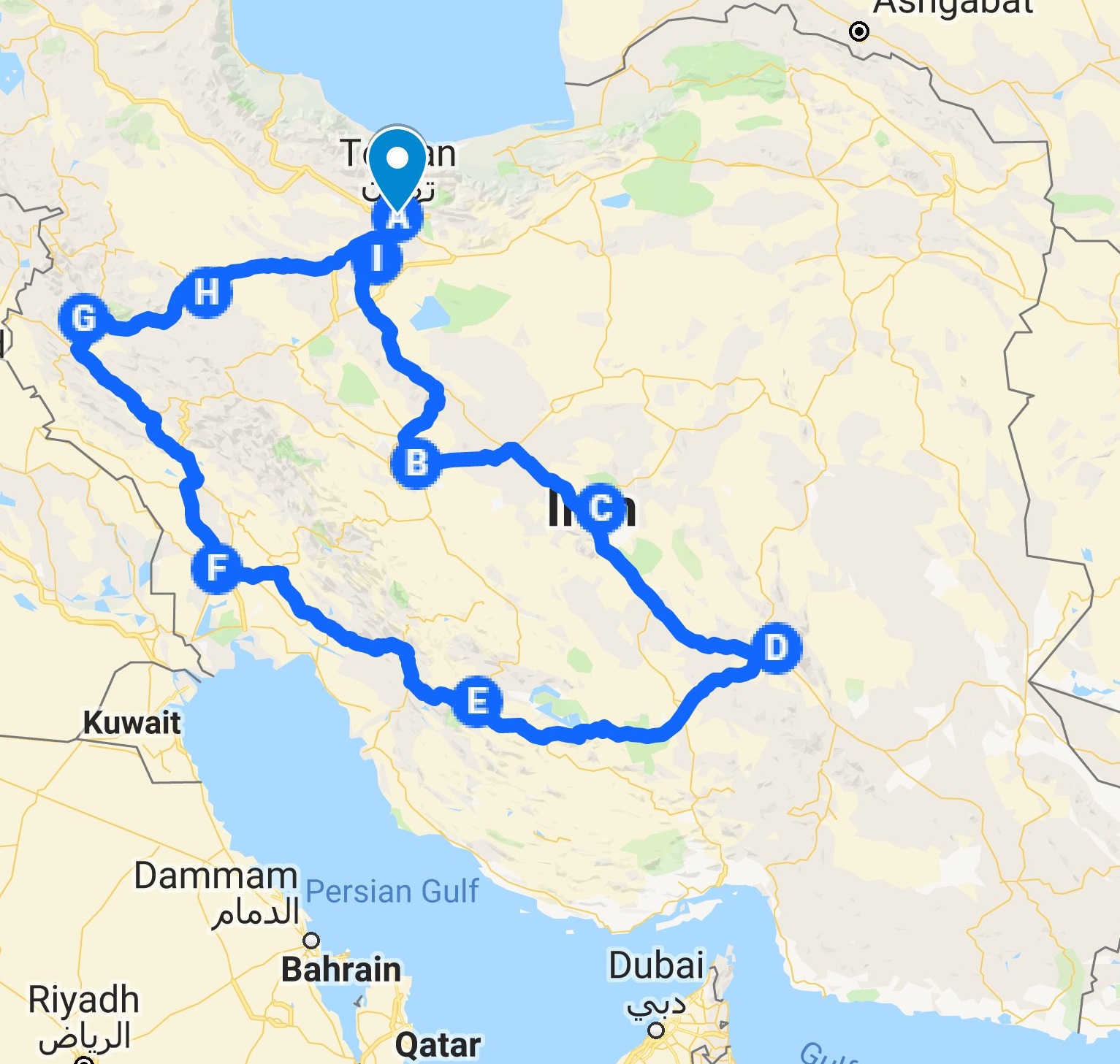 Detailed Maps
Flight from Tehran to Isfahan
Transfer From Isfahan to Yazd
Transfer from Yazd to Kerman
Transfer from Kerman to Shiraz
Transfer from Shiraz to Ahvaz
Transfer from Ahvaz to Kermanshah
Transfer from Kermanshah to Hamadan
Transfer from Hamadan to Tehran