Tour Description
One of the most prominent sites to visit in Iran are the islands located in the Persian Gulf. Through Iran tours, especially through Iran eco tours and Iran island tours, your trip to Iran will be facilitated in a better possible way for you to enjoy your instance in these islands.
We are honored to provide the best Iran tour packages so you can enjoy together with your friends and family the offered services in addition to the Iran tour guide, who is a professional guide and will be by your side during your trip to Iran. Keep in mind that Iran tours always offer this service and when you choose Iran eco tours, obviously this topic matters more.
Our job is to make sure that your travel to Iran is enjoyable and unforgettable!
The most highlighted component of Marvelous Island tour package is Qeshm Island by embracing the mysterious geology structures such as Chahkuh Canyon, Star Valley, Silence Valley and etc.
Many memorable moments throughout the whole plans within Qeshm, Larak, and the beautiful Hengam island are waiting to be occurred to form an unforgettable experience for you.
Included Services
---
· Visa authorization number
· 7 nights accommodation in the mentioned cities
· Transportation in air conditioned vehicle
· Ferries between the islands
· Excursions mentioned by the itinerary
· Airport transfers (x4)
· Entrances to the mentioned sights
· Your speaking language guide
Excluded Services
---
. Visa consular fee
· International flight
· Tip to driver or guide
· Personal expenses
· Travel insurance
· Items not mentioned in the inclusions
Important Note
---
Passport
Make sure that your passport is valid up to 6 months before you travel to Iran. For more info please contact us!
Transfers and Transports
Iran Negin Travel Iran tours include air-conditioned Sedan, Minivan, Minibus and Bus for transfers and transports depending on the group size.
Domestic Flights
The maximum check-in baggage allowance is 20 kg per person.
15/12/2018

22/12/2018

$449

22/12/2018

29/12/2018

$449

29/12/2018

05/01/2019

$449

05/01/2019

12/01/2019

$449

12/01/2019

19/01/2019

$449

19/01/2019

26/01/2019

$449

26/01/2019

02/02/2019

$449

02/02/2019

09/02/2019

$449

09/02/2019

16/02/2019

$449

16/02/2019

23/02/2019

$449

23/02/2019

02/03/2019

$449

02/03/2019

09/03/2019

$449

09/03/2019

16/03/2019

$449

16/03/2019

23/03/2019

$449

23/03/2019

30/03/2019

$449

30/03/2019

06/04/2019

$449

06/04/2019

13/04/2019

$449

13/04/2019

20/04/2019

$449
*Starting from in USD per person
Overview Map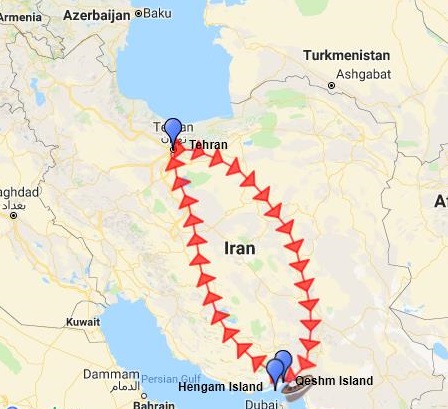 Detailed Maps
Flight from Tehran to Qeshm Island
Flight from Qeshm Island to Tehran