Eram Garden
---
The name of Shiraz awakens our vivid imaginations, subconsciously brings about a sense of poetry and romance, its Persian gardens archly play tricks in our minds as if we're still walking gracefully and carefree lead by the flowing rivers, fountains, trees and a sea of flowers, under the glowing sun of the old ages.
Colourful scenery, from the outstanding architecture to the famous emulated versions of Paradise on earth, poetic atmosphere, and the smell of sour orange blossoms are four of the prominent characteristics of Shiraz. It also characterizes the Persian culture and has been acknowledged as the image of Persia. That's what makes Shiraz with absolute certainty the first destination after Tehran, for every tourist who is travelling to Iran.
In this article we are focusing on one of the UNESCO's heritage sites, the Eram Garden of Shiraz or Bagh-e Eram -e Shiraz, one of the nine Persian Gardens listed as a UNESCO World Heritage site.
About Eram Garden
On the north west of Shiraz, a beautiful Persian Garden flaunts its magnificence to the eyes of the visitors. Her name is Eram Garden. This lovely Garden, isn't just a simple Garden, but she's an elegant old lady, who has seen many ups and downs during her living life. She has been a home to different types of trees and flowers from different parts of Iran and the world. Due to this diversity, Eram Garden has also been known as a Botanical Garden. Inside this garden, you will find a few mansions and buildings with unique decorations and architecture, which were built during different periods of history and by different people.
This garden which is located in short distance from "Babakoohi mountains" and on the north side of "Shiraz Dry River", is stretched from east to west. We can confidently say that Eram Garden is one of the most beautiful gardens in Iran, and invites many tourists from all over the world to visit her, all throughout the year.
History of Eram Garden
Despite many researches and studies conducted regarding the construction date of Eram Garden, no definite year has been suggested. But descriptions written in various travelogues written during 16th and 17th century, are indications of the fact that this Garden existed during those centuries. Some other evidences refer to the presence of Eram Garden during, Injuids, Muzaffarids, and Mughal Era.
From the writings of tourists who had travelled to Iran, this garden had its most thriving and prosperous years from Safavid Era and onward. Eram Garden went under renovations and reconstructions during Zand era, by the order of "Karim-Khan Zand".
From the end of Zand era, Eram Garden was managed by some of the chiefs of Qashqai Nomadic Tribe for 75 years. During the reign of Fath-Ali Shah Qajar, Qashqais chose Eram Garden as their ruling residence, and decided to build a mansion inside the precinct of the Garden.
In the early years of Qajar Era, former owners of the garden, who were some of the Qashqai chiefs, were buried in one of the corners of this big garden. But no signs of their tombs have been found yet.
During Qajar era, "Hossein Ali Nasir ol-Mulk" purchased this garden, rebuilt the present mansion. by maintaining the basic elements of the building. After his passing, around 1893, Abol-Qasem Khan Nasir ol-Mulk, his nephew and son in law, completed the structure and did the finishing touches and decorations.
After the death of Abol-Qasem Khan Nasir ol-Mulk, this garden was inherited to his son, and was again sold to one of the chiefs of Qashqai nomadic tribe.
Years later, Eram Garden was purchased by Farah Pahlavi, wife of the last Shah of Iran. This garden was handed to the university of Shiraz to be utilized as a reception palace.
Through those years, Eram Garden turned into a ruin due to natural causes, but in 1966 and 1971 it was again renovated and restored.
The original walls around the garden was replaced by stone walls and fences, decorations and the interiors, of the buildings, such as walls and ceiling paintings, and mirrors were restored and the exterior tilings were taken care of. The precinct of the garden was returned to its original state. In addition to those restorations, the area of the garden was expanded to 110380 m2, as the surrounding lands were added to Eram Garden.
Garden's Flowers and Trees
Eram Garden is a vast collection of diverse types of flowers and trees, brought from various parts of the world, in a way that it looks like a flower exhibition. The most famous members of this big family of robust and beautiful trees, are tall, coquet and elegant "Shirazi" cedar trees. Fruit trees and four phoenix palms around the corners of the pool are also among the members of this big and beautiful family.
The garden is filled with various types of roses, permanent, decorative, temporary, cold resistant and cold sensitive flowers.
Eram Garden's Water Supply
The big pool in front of the mansion used to be deeper in the past. The water supply for the garden comes from the "Nahr Azam" aqueduct, Water flow starts from the springhouse, travels around the pool and enters the channels and various smaller channels around the garden, and then continues its way to other parts of the garden, and waters the trees, bushes and flowers.
Architecture of Eram Garden
This rectangle shaped garden is 110380 m2. The main mansion and the courtyard mansion, are located on the west side of the garden. A big pool dating back to Ilkhanid era, is located in front of this building. The main mansion is a complete example of Qajar architecture, inspired by Zand and Safavid architectural methods.
This three story mansion is facing the east, and its beautiful architecture, Safavid inspired oil paintings, stone plinth carved patterns, tilings and stuccos, iron made windows, mansion's forehead, stone pillars, and inlaid wooden doors are the masterpieces of Qajar era. The doors are made with teak wood which is why they have remained intact and in a good shape for so many years.
The columns are mimicked from the Achaemenid pillars. On the forehead of the mansion you will see three crescent shaped patterns which are called "Santouri". Pictures of Naser ol-Din Shah, stories from Ferdowsi, Nizami and ancient Persian literature, made with coloured tiles, also embroider this forehead.
Various patterns of Achaemenid kings and soldiers', flowers, gardens, and summer houses which are around the windows of the western façade of the mansion, catch your eyes.
Springhouse inside the mansion was intended for summer use, and consists of hallways, a big kitchen, rooms beautified with coloured tiles, carved columns and a fountain. Coloured tiles arfe beautifully put together, shaping hunting grounds, landscapes and the tale of Khosrow and Shirin.
All of the other rooms of the mansion are decorated with coloured tiles, floral and arabesque patterns. Various detailed and fine patterns of women, hunting grounds and European palaces on the wooden ceilings, are witnesses to the fact that painting was one of the dominant arts during Qajar era.
Six poems of Shoorideh Shirazi, are inscribed in Nastaliq calligraphy on various parts of the mansion.
Eram Garden joined the list of UNESCO World Heritage sites, in 2011.
When to go to Eram Garden
Best time to travel to Shiraz is during Spring, especially during these three months, March, April and May. Buses, airplanes, trains, and taxis can all take you to the city of Shiraz.
As one of the main cities of Iran and as one of the major tourist spots in this country, Shiraz is rich in terms of accommodation and transportation options. You can go around the city with buses, taxis and the subway. Regarding the accommodation, you have nothing to worry about as there are various hotels, guesthouses and rental houses for different tastes and budgets.
If you ever decide to travel to Iran, and need some professional help and advice regarding accommodation and tours you can contact us as Iran Negin Travel team are trained to assist you every step of the way and recommend you the best options, according to your criteria, budget and schedule.
Eram Garden is one the most beautiful gardens, which are registered as Persian Gardens (UNESCO World Heritage Site) in Shiraz along with Nasir-ol Molk Mosque, Vakil Bath, Vakil Mosque, Vakil Bazaar ane etc. Thorugh our Iran tour packages you can visit every single important sights in Iran. Our Iran tour packages are made to plan your trip to Iran with unique services. We can make your trip to Iran a wonderful trip. Our daily city tours in Shiraz can also provide you the best services!
Contact us and get the best offers for Iran tours packages and visit Iran.
Gallery
---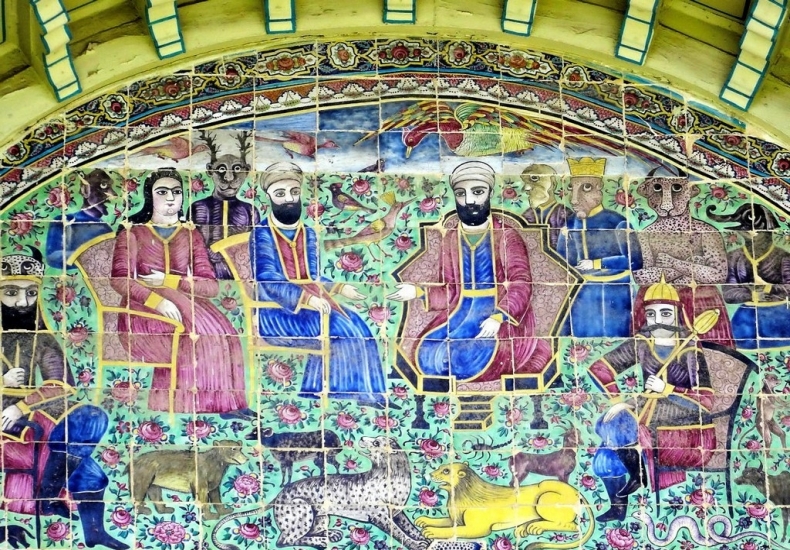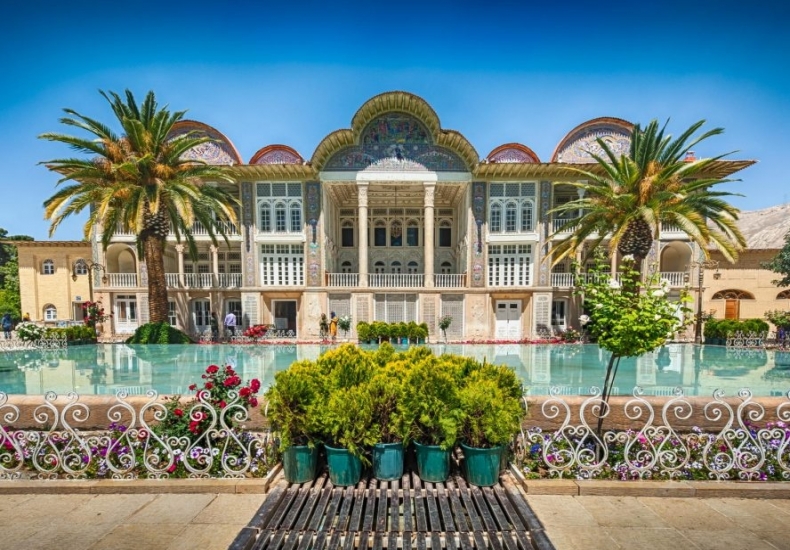 Additional Information
---
Opening Hours
08:00 - Sunset
Admission Entrance
200.000 IRR
Map
---