Vakil Bazaar
---
Vakil Bazaar is a historical complex which is located in the vicinity of Karimkhan citadel, Vakil Mosque and Vakil Bath. The complex is consist of an awesome historical Bazaar which specifically refers to the Zand dynasty kingdom, when Shiraz was settled as Iran's Capital.
Vakil Bazaar Introduction
Vakil Bazaar is mentioned as one of the most reputable traditional and historical bazaars in Iran. Like many other highlighted sites in Shiraz which has been constructed by the order of Karim khan king, one of the most powerful rulers of Zand dynasty, Vakil Bazaar has also constructed by the king's order in order to found a trade center in Shiraz through those ages.
Vakil Bazaar is considered as one the finest monuments of Zand dynasty which still being used as a historical trade center of Shiraz. Historical pieces of evidence have proved that karimkhan Zand , the king, has made the decision to found this Bazaar right after visiting the ancient bazaar of Lar, an important city of near Shiraz, which has been constructed by Shah Abbas Safavi, the most reputable king of Safavid dynasty.
Vakil Bazaar was considered as a really important trade center of Shiraz during Zand dynasty. The whole trade processes had been done through this bazaar, in addition it was somewhere really safe for the merchants in order to store their goods.
Vakil Bazaar Significance
If you're looking for a totally traditional shop in order to buy souvenirs and handicrafts or even the spices in Iran, Vakil Bazaar is considered as a really great choice. As the most highlighted handicrafts which can be found in the bazaar, rare Persian carpet, silver works and high-quality Iranian leather can be mentioned.
In addition, you can find many great restaurants to have high-quality Iranian foods. As the most highlighted restaurant, Sharzeh can be mentioned and suggested. Vakil Bazaar has many different parts which are specialized for shopping special type of goods. As one the most well-known parts of the Vakil Bazaar, Saraye Moshir can be mentioned.
Saraye Moshir in Vakil Bazaar
Saraye Moshir is located in the depth of the ancient Vakil Bazaar and exclusively contains handicrafts shops through a wide range of variety. Saraye Moshir has become so well known based on the rare architectural aspects.
Saraye Moshir has one major entrance and two floors; which have been constructed based on an introverted method. The whole shops are located in a circle order around a central rare garden and a really beautiful central pond.
During your visit to Shiraz, do not miss the opportunity to enjoy visiting Vakil Bath which an essential item in at Zand Complex and Iran tours packages, especially in Iran cultural tours. Although is historical site, normally Iran tour operators like Iran Negin Travel include Kashan in their Iran Eco tours, Iran adventure tours, Iran religious tours and of course the Shiraz daily tours.
Our Iran culturan tours are mostly provide the option to explore Vakil Bath, Vakil Mosque, Vakil Bazaar and Karimkhan Citadel and its incredible atmosphere.
Gallery
---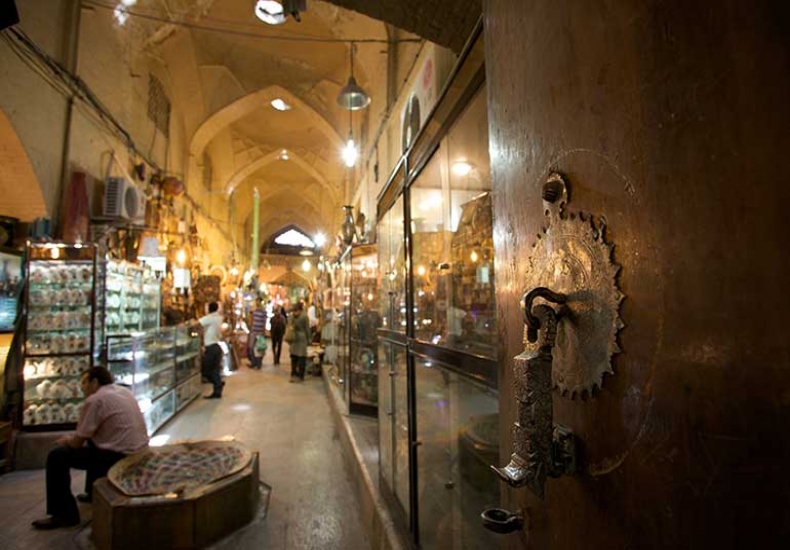 Additional Information
---
Opening Hours
09:00 - 13:00 | 16:00 - 20:00
Admission Entrance
Free
Map
---