Vakil Mosque
---
The central area of Darb-e Shazdeh or Darb-e Shahzade in Shiraz is full of tourist attractions. The Zand complex (also known as the Vakil complex) is one of the tourist attractions of Shiraz that is located in this neighborhood and in the set of several interesting sites. Vakil Mosque or Masjed-e Vakil by the locals, together with Vakil Bazaar and Vakil Bath, build the great Vakil complex which was built during Zand dynasty.
History of the Vakil Mosque
Vakil Mosque is another work of art from the era of the ruler Karim Khan Zand, a great man and well known to history lovers. The Vakil complex was one of many glorious buildings that were built under the orders of King Karim Khan who selected Shiraz as the capital of the Persian empire and the Zand dynasty. Vakil mosque, according to historians, was built in the eighth decade of the eighteenth century. The construction of Vakil mosque was simultaneous with the construction of the Vakil bazaar. Later and during the era of Qajar, the mosque was renovated by Hossein Ali Mirza Farmanfarma.
Architecture of Vakil Mosque
Due to the lack of information, unfortunately the architect of Vakil mosque is anonymous and we only know that the construction was ordered by King Karim Khan Zand. This amazing mosque has an area of eight thousand six hundred and sixty meters in a total area of eleven thousand meters. The plan of the Vakil mosque includes: the entrance, the hall, the courtyard, the two terraces, the large serrallos, the winter serrallos, the altar and the pearl arch. The carving of the arches of Vakil mosque (the arch above the entrance, the pearl arch and the large serral arch) are the most amazing architectural part of the mosque. Besides the Persian art, the tiles, the use with delicacy of the colors, the paintings and the writings on the walls are other details of the designers of the Vakil mosque that you would fall in love with.
During your visit to Shiraz, do not miss the opportunity to enjoy visiting Vakil mosque, which is one of the elements of the "What to visit in Shiraz" list and is also normally included in the tourist packages of Shiraz and Iran, especially in Iran cultural tours. Although it is a historic site, normally Iran's tour operators such as Iran Negin Travel include Vakil mosque on their ecological trips to Iran, adventure trips to Iran, religious trips to Iran and, of course, experiences in Shiraz.
Our cultural trips to Iran are mostly the option to explore the Vakil mosque and its incredible architecture.
Gallery
---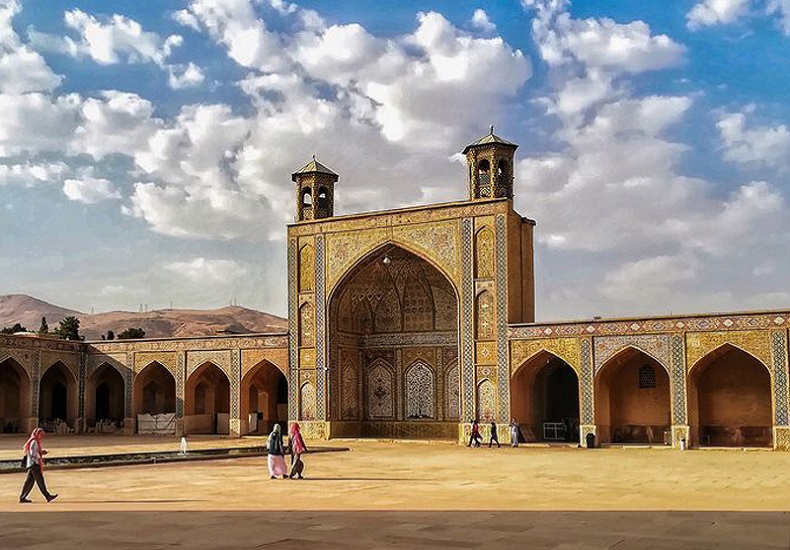 Additional Information
---
Opening Hours
08:00 - 20:00
Admission Entrance
500.000 IRR
Map
---