Vank Cathedral
---
During your trip to Iran, especially in Isfahan it's very recommended to visit the Vank Cathedral or the Holy Savior Cathedral (English Name) or Kelisā ye Amenaperkic (Persian Name), also known the Church of the Saintly Sisters, is a cathedral located in the Julfa district which is of Isfahan, Iran. It is commonly referred to as the Vank which means "monastery" or "convent" in the Armenian language. Vank Cathedral is another Iran tourist attractions and also a highlights of Isfahan which has to be added to your list when you decide to visit Iran. Vank cathedral was established in 1606, dedicated to the hundreds of thousands of Armenian deportees that were resettled by Shah Abbas I during 1603-1618.
The construction of Vank Cathedral begun in 1606 by the first Armenians refugees and was completed under the supervision of Archbishop David between 1655 and 1664 according to the historical books.
You should cover this Iran tourist attractions as a highlights of Isfahan in your Iran tour. Iran Negin Travel provides a large range of Iran tours packages like Iran classical tours and Iran eco and adventure tours through which you can visit Iran by the safest way.
---
Interior
The interior of Vank Cathedral is covered with frescos and carvings and includes a collection of incredible tile work. On the central dome is painted the Biblical story of the creation of the world and the expulsion of man from Eden. Above of the entrance you can find a delicate floral motifs likely Persian miniatures. At the top section of the murals around the interior walls you can find the story of life of Jesus, meanwhile the bottom section of murals shows the tortures suffered Armenian martyrs by Ottomans.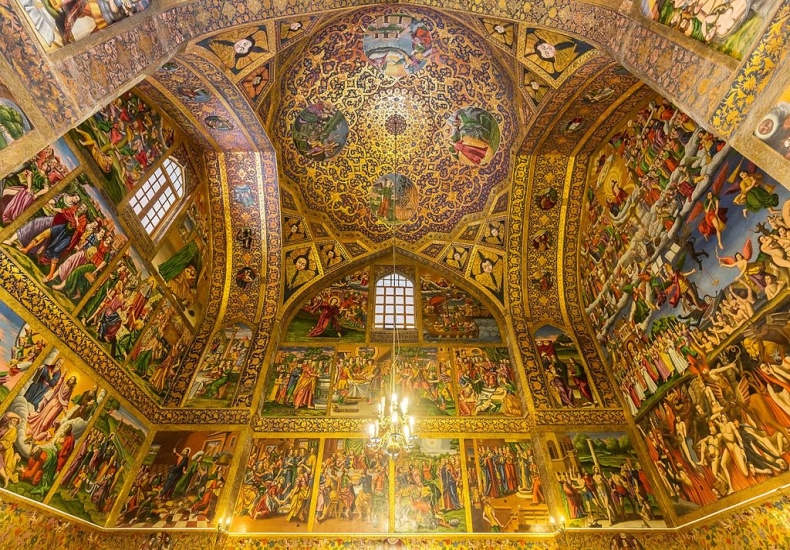 ---
Courtyard
The courtyard contains graves of both Orthodox and Protestant Christian which are placed along the exterior wall with inscriptions in Armenian. A tile work plaque written in Armenian can be seen at the entrance to the cathedral. Across the courtyard there is a building housing a library and museum.The library contains nearly 700 handwritten books and many unique resources for research in Armenian and medieval languages. The museum contains numerous artifacts from the cathedral and the Armenian community.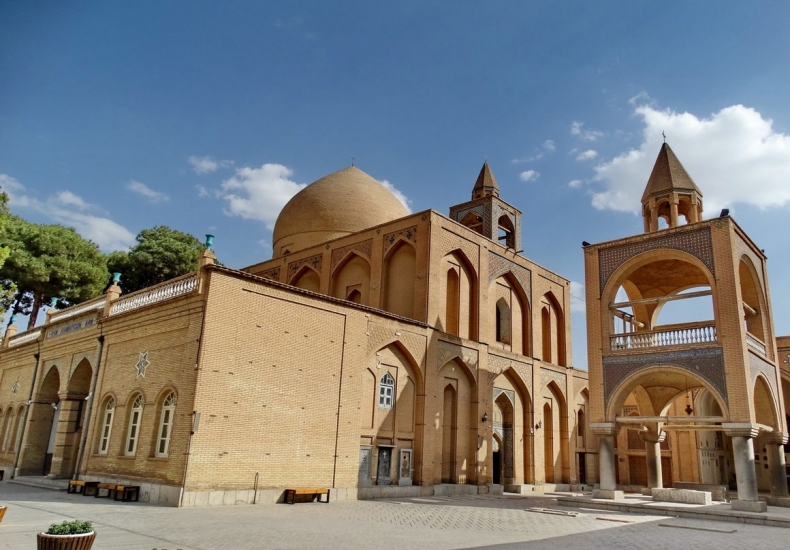 Vank Cathedral is one of the most highlighted sights in Isfahan , mostly for Christian people and those who are interested in history and religion so Iran Negin Travel team recommend you to visit Iran and Isfahan. Thorugh our Iran tour packages you can visit every single important sights in Iran. Our Iran tour packages are made to plan your trip to Iran with unique services. We can make your trip to Iran a wonderful trip.
Contact us and get the best offers for Iran tours packages and visit Iran.