Borujerdi House
---
Like many other historical mansions in Kashan, Borujerdi House, also known as Borujerdi mansion or "Khane-ye Borujerdiha" in Persian, is another 19th century built residence in Kashan. As its common the name comes after the owner last name. Borujerdi House is one of the tourist attractions along with Fin Garden, Teppe Sialk, Agha Bozorg Mosque and other famous houses such as Tabatabaei and Abbasi houses. Borujerdi house was nominated as the most beautiful historical house in Asia during the General Conference of UNESCO in 2014
History of Borujerdi House
The construction of Borujerdi House started in 1857 by the order of Mehdi Borujerdi, an important merchant from Kashan, and it almost took 18 years. There are some stories that the owner built the house to impress the Tabatabaei family and marry a girl from their family.
Architecture of Borujerdi House
Borujerdi mansion was designed by Ustad Ali Maryam, whom other master piece is Tabatabaei House which was built years later. Borujerdi house counts with all the specification of traditional Persian houses. The main specific item is having two main parts: Public or "Biruni" and Private or"Andarooni". The public part was always used for hosting the guests and celebrating events and the private part was always a part used by the hosts. This two parts are separated with a courtyard. As other traditional houses in Kashan and other warm weather regions, Borujerdi House also counts with a 40 meters wind catcher (also known as "Badgir") which keeps circulating the soft and cold air in the rooms. If you have already searched for Borujerdi mansion photos on web you would ask "what about the domed ceiling of the house?" You're right! We were trying to keep it for this moment. The domed ceiling is the top of the main hall of Borujerdi mansion that is decorated with ornaments. The interior part of Borujerdi house is superbly decorated with paintings by Sani-ol molk and multiple plots of sophisticated sizes.
How and when visit Borujerdi House
The advantage of tourist attractions in Kashan are that they are located much closed to each other in city center. You can easily visit the main sights in city center and always the best time is in the morning before noon to avoid the hot weather during the most of the year. As other warm weather regions in Iran, the best time to visit Kashan is during the winter, two first months of spring and autumn.
During your visit to Kashan, do not miss the opportunity to enjoy visiting Borujerdi Mansion which an essential item in Iran tours packages, especially in Iran cultural tours. Although is historical site, normally Iran tour operators like Iran Negin Travel include Kashan in their Iran Eco tours, Iran adventure tours, Iran religious tours and of course the Kashan daily tours.
Our Iran culturan tours are mostly provide the option to explore Borujerdi House, Kashan Bazaar, Fin Garden, Agha Bozorg Mosque, Tabatabaei House and other Kashan tourist attractions and its incredible atmosphere.
Gallery
---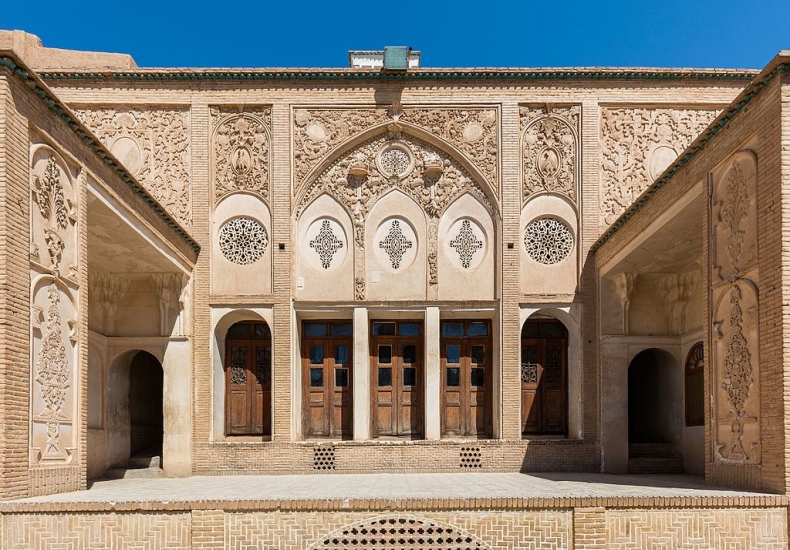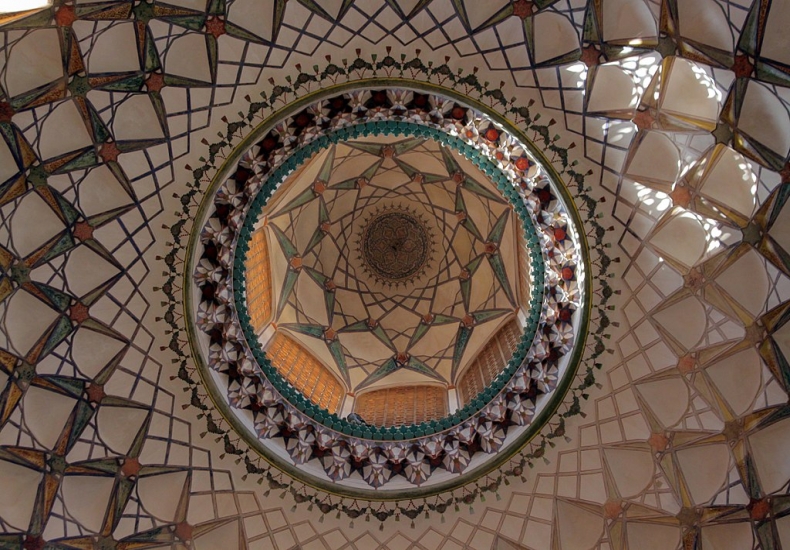 Additional Information
---
Opening Hours
09:00 - 18:00
Admission Entrance
200.000 IRR
Map
---