Dowlat Abad Garden
---
Who would have thought gardens could exist in the middle of a desert? This seemingly impossible matter turned out to be quite conceivable in well acquainted Persian Gardens.
You may wonder why one would want to visit "Gardens" on their trip to overseas and in this particular matter Iran. What's so special about these gardens? And what discerns these gardens from ordinary gardens?
The idea of an earthly paradise spread through Persian literature, since the Achaemenid era, and Cyrus the Great was the founder of such gardens. They were looking for places to provide them both spiritual and leisurely relaxation, such as meeting with friends and companions. This place would resemble a "Paradise on Earth". Actually the modern word "Paradise" has been derived from the Avestan word "Pairidaēza", which means "Walled Garden", and this was also borrowed from another Akkadian word.
As it is quite obvious from the word, these gardens would have been enclosed. A protected area where they could relax, chill, gather their thoughts and reenergize in the middle of daily life and its obstacles.
Throughout history, many gardens all around the world, have inherited the tradition and design of the Persian Garden, such as gardens of Andalusia to India and beyond.
Iran now as a cradle of earthly Paradise, is and has been a home to many Persian Gardens, with nine of them embroidering the list of UNESCO World Heritage sites.
Some of them are surprisingly located either in the middle of a desert or in cities with desert characteristics.
Dowlat Abad garden is amongst these nine gardens, located in Yazd. The city of wind catchers.
Stay with us in this short virtual tour, perhaps we will be successful in encouraging you to visit this garden on your next trip to Iran.
Introduction to Dolatabad Garden
Dowlat Abad garden with an area of 6.4 acres, located in "Chahar Menar" old and historical neighbourhood in the city of Yazd, is also called Dolat Abad Chahar Menar garden. This garden is one of the oldest gardens in Iran and is famous for its 33.8-meter wind catcher which is the tallest wind catcher in the world.
The view of pine and cedar trees, fruits trees such as grapevine and pomegranate trees, catch the eyes of every visitor.
Dowlat Abad garden which dates back to 260 years ago, was built by late "Muhammad Taqi Khan" and has been registered both as a National Monument in1965 and a UNESCO World heritage site in 2011.
History of Dolatabad Garden
At the end of Zand dynasty, in the first quarter of 18th century, "Muhammad Taqi Khan Bafqi", built a garden as a residential place for rulers of the time. Given that Muhammad Taqi Khan was the head of Khans in Yazd, he was also known as "The great Khan" (Persian: Khan-e Bozorg).
Muhammad Taqi Khan first built a 65-kilometer long Qanat, for the purpose of watering the garden he was about to build. This 200-year old Qanat originated from Mehriz heights and would transfer water to the current location of Dowlat Abad Garden. He then built multi-purpose Dolat Abad Garden, for both residential and governmental utilization. Fountains, Mansions, Ponds, various types of fruit and evergreen trees were gradually added to the garden. Due to its multi purpose utilization, it was divided into two separate sections, internal courtyard for private and residential use and external courtyard for governmental ceremonies, sport events and managing city affairs.
At the time of building this garden, it was located in the suburbs of Yazd, filled with so many trees that they would call it "The garden of thousand trees". Gradually, and by the Pahlavi era, due to the growth and expansion of the city of Yazd, Dolat Abad garden became a part of the city located in downtown Yazd.
This garden had been utilized by Shahrokh Mirza and Karim Khand Zand.
Dowlat Abad garden was abandoned, until it was rented by the Ministry of Art and Culture for about 16 years from 1969 and, and were then entrusted to Heritage site protection organization. It immediately went under restoration and reconstruction processes, which included the reparation of the mirror hall, servants' residence, kitchens, Tehrani mansion, water reservoir, wind catcher mansion, Sarv mansion (Sarv: Cedar tree) and Behesht Aeen Mansion.
Where does the water come from?
The water supply for this garden used to be provided from Mehriz Qanat.
Mehriz qanat, which is the longest qanat in the city of Yazd, travelled for more than 50 km, after watering the farmlands of Mehriz and activating a few watermills, it then found its way to Dowlat Abad Garden and irrigated the 70,000 m2 garden and its pomegranate trees, grapevine trees, cedar and pine trees, filled the ponds and pools and continued its journey to other neighbouring farmlands.
Today only 45,000m2 of this garden remains.
Water Demonstration in Dolatabad Garden
Water is one of the prominent elements in Persian Gardens, more than any other Persian Garden, water has been displayed in Dowlat Abad Garden. Hidden and visible water channels, pools and ponds form the water flow system in this garden. Under the windcatcher of the vestibule mansion is the first place you'll see water in a marble pond, it then continues its journey to a pool in the middle of the mansion and then to three other rectangle shaped ponds in three alcoves. This is only a part of the journey the water has in this garden. After twists and turns it reaches the big fountain, and this is where it dances before the eyes of the visitors. This pool is placed exactly in alignment with the middle axis of the mansion, and makes a perfect reflection of the mansion on the water. The water used to flow to some kind of a water circulator, but it's not there anymore. Water flows until it reaches the twelve sided pool in "Behesht Aeen" garden, fills three other rectangle pools and then exits to the neighbouring villages and farmlands.
Different parts of Dolatabad Garden
The garden was divided into two main sections: Internal Courtyard and External Courtyard (Persian: Jelo-Khan), as we have already mentioned it was both utilized as a personal residence and governmental base. The two sections were completely separated, and even the internal courtyard had its own guard and gatekeeper.
- Internal courtyard consisted of the Vestibule (Summerhouse), Harem, Behesht Aeen Garden, Kitchen, Tanbi Hall, watchtower, private water reservoir, summer and winter stables.

- Vestibule Most significant part of this garden is its two story and octagonal shaped vestibule and 33.8-meter windcatcher on top of it. It was intelligently designed to make a beautiful combination between the airflow and the water. Water present in the mansion and under the windcatcher combined with the airflow in the vestibule, which created a cooling effect. This cool air flowed below the windcatcher and were then transferred to all the three alcoves and other halls. This is why they also called it a summerhouse. This mansion consisted of three alcoves, octagonal windcatcher, springhouse (Persian: Hoze-Khaneh) with marble ponds, reticular doors, vestibule and two storerooms.

- Tanbi Hall On the west side of the vestibule, there's a luxurious hall, which is called Tanbil Hall, with a square shaped windcatcher on top of it. Around this hall you will see, halls, clerestories and bedchambers.
- Behesht Aeen This was utilized as the winter residence for the family who lived in this garden. It is exactly located in front of the vestibule, Cherry and pomegranate trees can be seen in the area between these two mansions.
- Watchtower The watchtower is located on the adobe walls surrounding the garden.
- External Courtyard which is located on the north side of the garden consisted of: Frontage and portal, Mirror Hall, Tehrani Hall, Two mini Bazaars, Two watchtowers, Public water reservoir.
Sport events and governmental ceremonies were held in this part of the garden and it was also a place where caravans would rest.
National and International registration
Due to the high historical and architectural value of this garden, it was registered as one of Iran's National Monuments in 1967 and in 2011 it entered the list of UNESCO World Heritage sites.
When and How to go to Dolatabad Garden
Due to the desert characteristics of Yazd, the best time to travel to this city is in early spring, March, April and May, and also from October to February. For travelling to Yazd from anywhere in Iran, you are provided with various options such as airplane, bus, train and personal car. Inside the city you can use taxis and given that the garden is located in the city centre getting there is quite easy on your own, but if you're willing to gain more knowledge on the different parts of this garden, you can find tours that not only take you to this garden, but will show you around the city. Iran Negin Travel, as an Iran tour operator and agency offers you great advice on different tours based on your desires and criteria.
But if you decide to go on your own, here are some of the other places you might be interested to see in Yazd:
Lari-ha Traditional House
Alexander's Prison
Iran Negin Travel, as an Iran tour operator offers among with Iran tourism services such as Iran visa, Iran hotel booking and etc. , Iran tours packages through which the passengers can discover Iran as they desire. As a very common request, Iran cultural tours packages and Iran daily tours. You can chose among our Iran tours packages and add Yazd to your program and enjoy your trip to Iran. In in addition to explore Dowlat Abad Garden, you can visit the Yazd Jame mosque, Amir Chakhmaq complex and Yazd old town.
Our team is eagerly ready to provide you all the services from Iran visa to Iran tours packages. Don't forget to contact us!
Gallery
---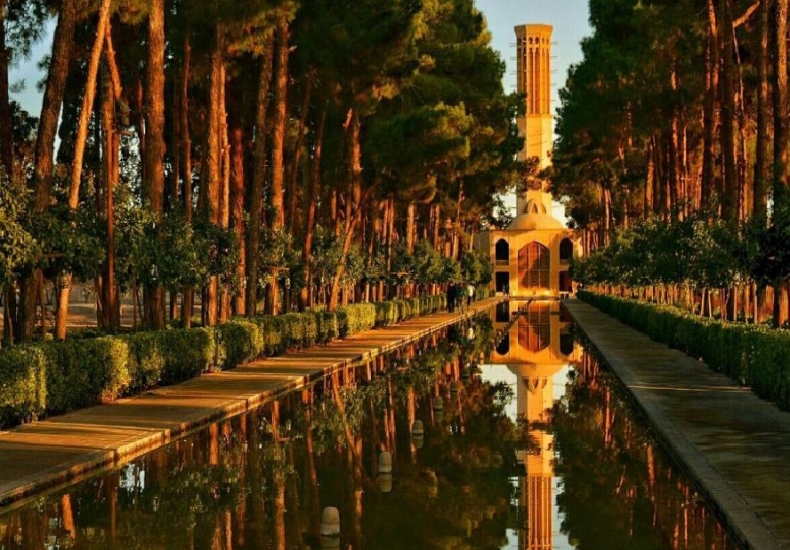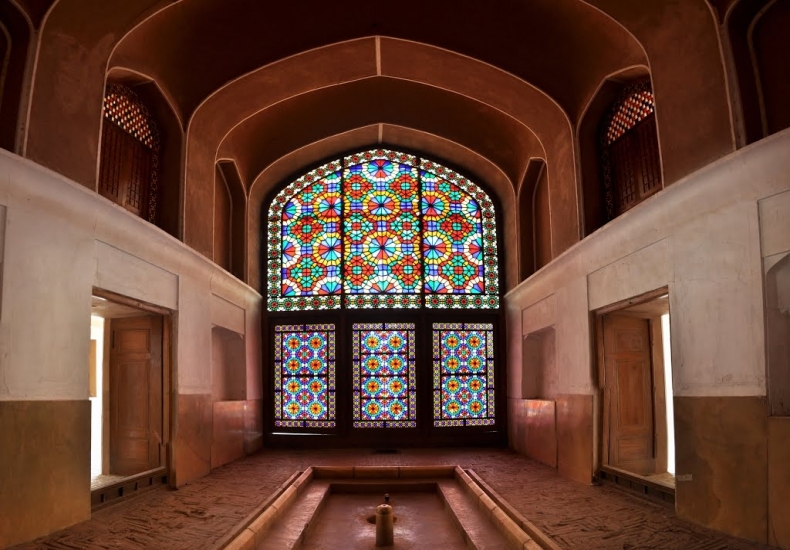 Additional Information
---
Opening Hours
07:00 - 23:00
Admission Entrance
500.000 IRR
Map
---