Sultan Amir Ahmad Bathhouse
---
Bathing didn't use to be a quick transition from one state to another, and from one action to another. It used to be a long process of literally cleaning up from the very top to the toes. It wasn't due to the lack of facilities, but the reason was mainly because neatness and good hygiene would suggest that the person had a sense of self awareness and self-respect. The scale of the bathing place was also incomparable to what we now know as "Bathroom". Bathing wasn't just about washing. Bathing was a process of giving your body, your hair, your skin and your mind the attention it needed. Various steps of bathing, washing, receiving massages, phlebotomy all would fulfil those needs.
"Bathhouses" were the cure! The term "House" which was added to "Bath", indicates that bathing was of a particularly high importance and required, dedicating a significant amount of time to it. As much as it was worthy of. Their beautiful interior decorations confirm the significance and importance of bathing.
Bathhouses could also be regarded as a "society" on a smaller scale. They were a sort of a hang-out place for some people. A place for drinking tea, chit-chats, gossips, women finding brides for their sons and so on.
According to "Ardershir Khorshidian", Persians were probably the first people who had public bathhouses, and as quoted from another source the history of public bathhouses in Iran dates back to more than 3000 years ago.
Two of the examples of these bathhouses are located in the city of Kashan. A city that has been a home to at least two famous bathhouses, such as "Fin Bathhouse" (as a part of Fin Garden) and "Sultan Amir Ahmad Bathhouse".
Why would you want to visit Sultan Amir Ahmad Bathhouse? Here is why. By visiting this bathhouse, you would see one of the unique examples of Iran's bathhouses, regarding decorations and architecture.
In this article we're focusing on Kashan's "Sultan Amir Ahmad Bathhouse".
Perhaps you will find it interesting enough to make plans for visiting this place on your next trip to Iran.
Introduction to Sultan Amir Ahmad Bathhouse
In one of the corners of the city of Kashan, you will find a historical bathhouse of "Sultan Amir Ahmad", which was named after a nearby Imamzadeh with the same name, "Imamzadeh Sultan Amir Ahmad". Sultan Amir Ahmad was the grandson of ninth Shia Imam, Imam Javad.
This historical bathhouse is considered to be a unique example of bathhouses in the history of Persia, and is probably second to none regarding its decorations and architecture.
Sultan Amir Ahmad Bathhouse with an area of 1102 m2, was registered as one of Iran's National Monuments in 1976.
As mentioned above, other famous bathhouses such as Fin Garden Bathhouse, Gozar-No Bathhouse, Abdol Razzagh Khan Bathhouse, Muhtasham Bathhouses are also located in Kashan.
History of Sultan Amir Ahmad Bathhouse
In the past, every city consisted of five main elements, which was Mosque, Bazaar, House, Bathhouse and Cisterns. Based on this classification, Sultan Amir Ahmad Bathhouse can be regarded as an important element. According to texts from various historical periods, during all Islamic periods, public bathhouses existed in the cities, in a way that, in terms of number, the number of mosques could not compete with the number of bathhouses.
Records and evidences confirm that Sultan Amir Ahmad Bathhouse belongs to the Seljuk era. But a part of this bathhouse, which is called "Sarbineh" (Sarbine equals Changing Room), was built during the Qajar era.
The evident signs of the destructive earthquake in 1771 on this structure, is indicative of its ancientness dating back to Seljuk era. Some believe that the present building was built on the ruins of the older bathhouse during Qajar era, around 1875, and a small bathhouse were added to it.
During the Safavid era, bathhouses were among the monuments that were praised by Iranian visitors and foreign tourists.
Restoration and reconstruction of Sultan Amir Ahmad Bathhouse
In 1996, with the attempt of the board of trustees for restoring and rebuilding the historical monuments, this building was purchased by the Municipality of Kashan. Following that, a project named "The Restoration and reconstruction of Sultan Amir Ahmad bathhouse" were planned, to protect the structure from destruction. The utilization of this bathhouse changed to a traditional teahouse for a period of time, but it is now utilized as a museum, covered by the Municipality of Kashan.
Architecture of Sultan Amir Ahmad Bathhouse
A bathhouse is regarded as one of the complicated architectural structures, due to the principles it has to follow.
One of the interesting facts about bathhouses is that, in order to preserve and maintain the internal heat and save energy, they were built lower than ground level.
Sultan Amir Ahmad Bathhouse has spectacular decorations, and it is quite unique in terms of its embellishments and decorations. Stuccos catch the eyes of every visitor. Bas-reliefs on a surface of lime, is considered one of the beautiful decorations in Persian architecture. 17 layers of restorations were discovered in this structure, which is an indication of its antiquity.
Turquoise and golden tiles, seven layer stuccos, and its very special architecture, have made the Sultan Amir Ahmad Bathhouse, one of the most outstanding examples of Iranian Bathhouse Architecture. Arch ceiling, mesmerizing mosaics and wall paintings are the characteristics of this bathhouse.
The water supply for this bathhouse were provided from two earthing wells, and for transferring the water, water pipes made from baked pottery were used.
Colourful window glasses, known as "Gol-Jaam", on the ceiling or on the walls are eye catching.
Different sections of Sultan Amir Ahmad Bathhouse
Generally, Sultan Amir Ahmad Bathhouse consists of two small and big bathhouses, and in the past people would use them only on specific days.
Big Bathhouse
1. Entrance
In old bathhouses, reaching to the changing room, which was the biggest area in bathhouses, required passing through a number of other areas:
Jelokhan: A part of entrance area.
Entrance façade Façade was an inseparable part of Persian ancient architecture, and every structure were specified by this part. This part of Sultan Amir Ahmad Bathhouse is decorated with various patterns such as floral patterns and pigeon patterns, also with sculptures and images of men and women and hunting grounds around the city. Stalactite arcades and stuccos are some of the other characteristics of the entrance façade of this Bathhouse.
Vestibule and connection hallways The entrance is located right after the entrance façade, and connects the outside and inside of the bathhouse. From this area, you will reach to the interior part of the bathhouse, via a turning and twisting hallway. After passing through the Vestibule (Persian: Hashti), you will enter another area of the bathhouse called the "Sarbineh". The reason for these twisted hallways was to avoid a sudden decrease or increase in temperature, which would bother the person going into or coming out of the bathhouse.
3. Sarbineh (Changing Room)
First important area of the bathhouse was "Sarbineh" or "Bineh", which was some sort of a changing room, either for people who were coming into the bathhouse or going out of the bathhouse. This area was located between the bath and the hothouse. Air in this area was half warm with the purpose of gradually increasing the temperature for people who were coming in, and gradually decreasing for the people who were heading out, to avoid any health problems for the people using the bathhouse.
Most of the decorations of a bathhouse were gathered in the Sarbineh. Arranged and accurate lighting doubles the beauty of this section. Sarbineh is octagonal shaped, and the beautiful stuccos and stone made shoe compartments are the details you will surely notice.
Sarbineh is the most beautiful part of Sultan Amir Ahmad Bathhouse, and is divided into two different sections with 8 columns. One was intended for passing with tall arch ceilings. An octagonal shaped pool with fountains were built at the centre of Sarbineh. The surrounding areas had shorter ceilings where platforms for sitting and resting and changing clothes were embedded. A pond was also built for washing feet before entering this part of the Sarbineh. At both sides of this area, there are two stalls facing each other, which were intended for kings, lords and grandees. The middle dome of this area and the tiled Plinths have created a beautiful space.
There's an inscribed date on the ceiling, which refers to one of the restorations after the the earthquake during Zand dynasty, which says 1292 AH. It is also said that this ceiling was completely destructed during the earthquake.
After Sarbineh there's an area called "Mian-dar" (Middle Door), which would take you to Garm-Khane (Hothouse).
4. Hothouse (Persian:Garm-Khaneh) and Khazineh (Persian:Bath)
The second main area of Sultan Amir Ahmad Bathhouse is its Garmkhaneh or Hothouse, where washing and cleansing the body would take place. Garmkhaneh has a simpler space comparing to Sarbineh. Corners have been built for the purpose of sitting and washing. 1 metre of the the walls are decorated with faience mosaic and from that point up to the ceiling, lime bas-reliefs with stirrer mortar was used. Stirrer is a type of a mortar, resistant to water, and consists of lime, ash and clay and etc.
Warm bath (Persian: Khazineh Ab-e-Garm) and cold baths (Persian: Khazineh Ab-e-Sard) and more private areas were also included in the hothouse. In more advanced bathhouses, three baths (Persian: Khazineh) were included, with warm, cold and lukewarm water. Every person would choose one of these baths, and no one would step in more than one bath. Private baths were intended for lords and grandees. In these private areas, small ponds known as "Dastak" were built instead of the baths, so that they could pour the water from the ponds on their head.
5. Golkhan or Toun (Stove or boiler of the bathhouse)
As it can be interpreted from its name, this place was an area of the bathhouse which was equipped with facilities for warming up the water. The fuel of the bathhouse was provided from firewood.
·Small Bathhouse
Small bathhouse has a very simple and ordinary entrance, which will lead you to the Sarbineh through a hallway. Around the changing room of this bathhouse platforms can be seen and the decorations of the plinths and ceiling are similar to the big bathhouse.
Roof of Sultan Amir Ahmad Bathhouse
Roof of this bathhouse is the masterpiece of this building, and is one of the most beautiful dome shaped roofs in Iran. There are a number of domes built on the roof of the bathhouse and each of them are embedded with convex lens glasses. They would lead sufficient light to the different parts of the bathhouse and also acted as barriers making it impossible to see inside of the bathhouse. Interior lights and the humidity of Sarbineh were controlled by the coloured glasses (Gol-Jaam), for instance during some seasons, they would remove some of the coloured glasses to adjust the humidity and light. In the bathhouses people used to dry themselves with a piece of loincloth (Persian: Long) and there were areas specifically for drying the cloths and loincloths which were accessible via a staircase.
When to go to Sultan Amir Ahmad Bathhouse
The best time for travelling to Kashan is during April and May, the time when rosewater extraction ceremonies are held. Given that Kashan and the surrounding areas have many place to see and visit, it's better to stay a few nights at a hotel, a traditional house or a guesthouse in Kashan.
Many historical and traditional houses have been restored and renovated, and are utilized as guesthouses and hotels. Staying at these traditional houses make for a great experience, as you will enjoy living a few days in a traditional atmosphere. Make your reservations before you start your trip to Kashan, especially during its high season which is in spring. Iran Negin Travel, as an Iran tour operatoer , will make sure that your trip to Iran and Kashan will be done in perfect conditions as we are one of the most reliable sources for recommending you the best options matching your criteria, budget and schedule
You can use taxis in the city of Kashan for getting from one place to another.
Other places to see while you're in the neighbourhood around Sultan Amir Ahmad Bathhouse:
During your visit to Kashan, do not miss the opportunity to enjoy visiting Borujerdi Mansion which an essential item in Iran tours packages, especially in Iran cultural tours. Although is historical site, normally Iran tour operators like Iran Negin Travel include Kashan in their Iran Eco tours, Iran adventure tours, Iran religious tours and of course the Kashan daily tours.
Our Iran culturan tours are mostly provide the option to explore Kashan Bazaar, Fin Garden, Agha Bozorg and other Kashan tourist attractions and its incredible atmosphere.
Gallery
---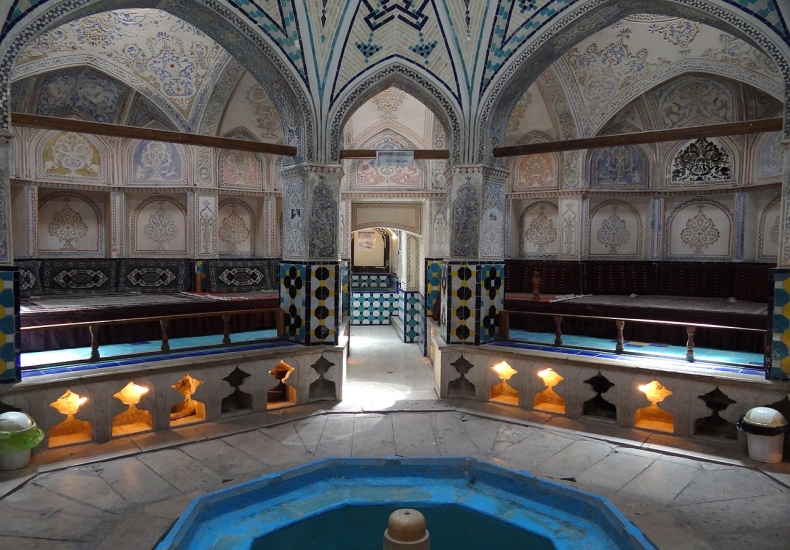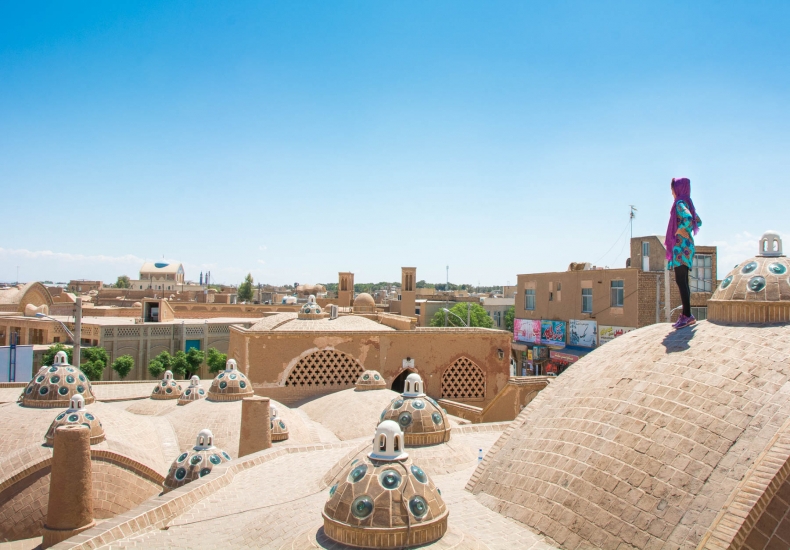 Additional Information
---
Opening Hours
08:30 - 18:30
Admission Entrance
300.000 IRR
Map
---